Little Mix Fans Are FUMING After Jesy's Body Is "Photoshopped" In The 'Touch' Video
31 January 2017, 12:00 | Updated: 8 May 2017, 17:09
"Why Photoshop Jesy? You guys are disgusting."
We're about to admit something pretty personal right now so please don't judge us. Since Little Mix's 'Touch' video dropped on Jan 19, we have not stopped watching it. And we say 'have not stopped', we mean, everyone at PopBuzz HQ currently accounts for over 75% of the total views on YouTube. We're obsessed.
But we had been so mesmerised by those iconic dance movies and questionable outfits (*ahem* Perrie's hoodie/corset combo) that we didn't even notice the fact that during Jesy's scenes, the walls behind her are warped suggesting there's been a bit of suspicious editing to her body. What the WHAT?!
Mixers on the other hand did happen to catch the editing mistake and they're calling out who ever is responsible.
They photoshopped Jesy's body in the #TouchMusicVideo. Release the unedited video @LittleMix! This is disgusting. pic.twitter.com/76yNy2DaZI

— Little Legends Facts (@ShadyMixerFacts) January 20, 2017
@LittleMix seriously, this is so upsetting! Thought it may have just been dodgey paintwork, but it's not... #Loveyourself pic.twitter.com/tkrwHjK2Dm

— Alice Sposito (@AliceSposito) January 23, 2017
@LittleMix definitely need a new editor, last time I check walls can't bend #littlemix #touch pic.twitter.com/wIgak7rZUy

— Alice Sposito (@AliceSposito) January 23, 2017
Throughout the video, you can see distortion on the walls around Jesy's (already incredible) figure.
@LittleMix I love you and all but your editor should really not photoshop you, show girls to be comfortable in their own skin #Loveyourself pic.twitter.com/UXXlUoPqdl

— corey (@corvosper) January 23, 2017
It even moves with her too, adjusting to her positioning in the shot.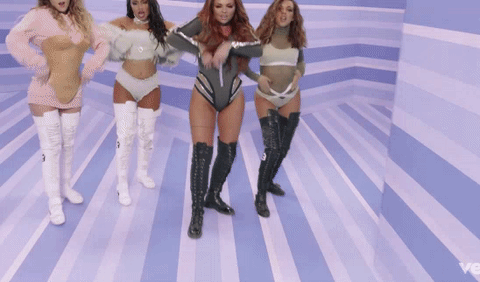 Syco/Columbia Records
It's pretty upsetting tbh - considering that neither of the other three girls seem to have suffered the same treatment. Fans are flocking to Jesy's defence by saying, that the video is doing a disservice to her already incredible figure. "Please stop editing Jessie. She's perfect" and "Why Photoshop Jesy? You guys are disgusting." They're even calling for a re-release of the video without the editing.
It's not the first time "photoshopping" has been so blatantly caught in music videos. Early last year, Meghan Trainor took down her music video for 'Me Too' from YouTube and replaced it with the unedited version after a massive backlash against the editing around her waist. She later admitted that in a rush to put it out there, she approved it without taking the time to see it properly.
No one from Camp Little Mix has issued a statement or a sassy tweet about the revelation just yet. But just know this, Jesy don't need no editing... she's a great role model, flawless and friggin' fierce AF as it is. So are the other three. Now, re-release the unedited version so we can all get back to bopping to the song of the decade.
Syco / Columbia Records
___ ___ ___ ___ ___
From Brendon Urie to The Vamps, here are the best bits from the #PopBuzzPodcast in 2016. Listen right here or subscribe for free on iTunes to get new episodes sent straight to your phone every Wednesday.