JoJo Siwa denies blackface accusations in Nonstop music video
29 June 2020, 15:25 | Updated: 15 July 2021, 16:55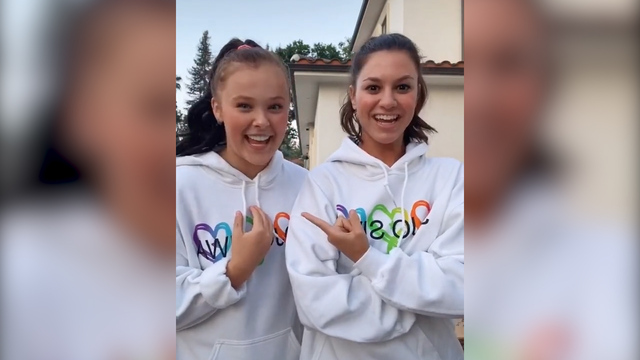 Jojo Siwa debuts new brown hair on TikTok
"Stop trying to make this about something it isn't."
JoJo Siwa has defended her 'NONSTOP' music video after people have accused one of the dancers of wearing blackface.
JoJo released the circus-themed video for 'NONSTOP' earlier this month, complete with dancers dressed as animals performing in a big-top tent. One of the white dancers, 12-year-old Lilliana Ketchman, was dressed as a monkey, wearing dark brown face makeup and ears.
READ MORE: JoJo Siwa has dyed her hair brown and the internet is losing it
Over the weekend, the singer started receiving "really horrible and disgusting messages" on Instagram and Twitter, with fans accusing JoJo of putting Lilliana in blackface.
jojo siwa released a music video on JUNETEENTH called "nonstop". the video featured a dancer dressed like a monkey with dark brown makeup covering her face. this offended several people who claimed insensitivity and politely asked jojo to address it #jojosiwaisoverparty pic.twitter.com/SLNeqJ3Je8

— 🦋💙 (@meekasjay) June 25, 2020
JoJo denied that the model's makeup was racially-motivated and released a statement on her Instagram to clear things up. She said: "We're talking about kids dressing up as circus animals! No one in my video is wearing blackface. It's awful that anyone's mind would even go there."
She added: "There were zebras, tigers, dogs, clowns, mermaids, everything. I've addressed Black Lives Matter issues previously on my social media, I will say it again for the ones in the back, Black Lives Matter, today, tomorrow, yesterday and forever. I'm on the right side of history here. Stop trying to make this about something it isn't."
The comments on JoJo's YouTube video are currently disabled, but fans on Twitter jumped to JoJo's defence.
some of y'all don't know what blackface is and it shows

— evi (@gwscvm) June 27, 2020
Jojo Siwa is a child. That video wasn't blackface. It was clearly little kids dressed like animals. Y'all are dragging it with that one. Idek her or her place in the entertainment world but even i can see that's not that.

— Pisces Prince ♓️ (@DoseOfKeevis) June 27, 2020
how is a the girl from the jojo siwa music video wearing blackface when she's supposed to be dressed as a MONKEY.... i think we know who the real racists are here😐

— mannie (@sleebyonions) June 25, 2020
honestly kick yourself in the face if you coming for jojo siwa for this ?? playing as a circus monkey and her face isn't even completely BLACK. grow tf up😂 pic.twitter.com/WYNHZRDzEb

— and thats on carol 😌 (@thisgirlmyaa) June 27, 2020
The Dance Moms star ended her post, saying: "I love my real fans and am so grateful for their love and support. Instead of trying to drag everyone down, let's be positive and come back like a boomerang."
What do you think? Tweet us @popbuzz and let us know!