Jung Kook fans are losing it over his explicit Seven lyrics and the memes are hilarious
18 July 2023, 15:23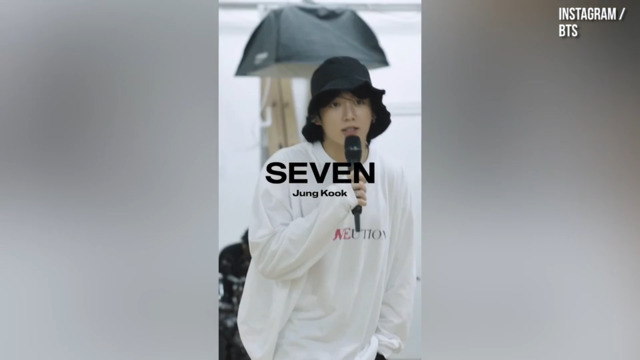 Jung Kook rehearses debut single Seven
Jung Kook singing 'I'll be fuckin' you right, seven days a week' was not on my 2023 bingo card.
The wait is over. Jung Kook's debut solo single is officially here and fans are losing it over how explicit his 'Seven' lyrics are.
Ever since BTS debuted, fans have wanted to hear Jung Kook's solo music and 'Seven' doesn't disappoint. It's a UK garage inspired banger, it features Latto and, in Jung Kook's own words, it's about wanting to "be with the person you love all the time".
Speaking to Korea Dispatch, Jung Kook says: "The willingness to be with the love of my life every day is shown in this passionate serenade."
The clean, radio version is very romantic. However, there is also an explicit version and fans can't get over how sexual it is.
What are Jung Kook's Seven lyrics about?
In the clean 'Seven' chorus, Jung Kook sings:
"Monday, Tuesday, Wednesday, Thursday, Friday / Seven days a week / Every hour every minute every second / You know night after night / I'll be lovin' you right / Seven days a week."
So far so normal but, in the explicit edit, Jung Kook replaces "lovin' with "fuckin" and sings: "I'll be fuckin' you right" throughout the song.
정국 (Jung Kook) 'Seven (feat. Latto)' Official Performance Video
Naturally, fans are living for how mature 'Seven' is and the reactions and memes to Jung Kook singing about "fuckin' you right" are pretty legendary if you ask me.
With that in mind, here are just a few of the funniest responses so far to people hearing Jung Kook swear on his debut single.
1) I'm going to need a moment to process this!
2) Get you a man who can do both.
3) There's already a live version and I'm sweating.
4) I say that's my baby and I'm proud.
5) A historic moment.
6) Even Jung Kook can't keep a straight face.
7) Seriously though, I needed more warning for this.
8) Does it ever drive you crazy just how fast the night changes?
9) I wasn't expecting that at all.
I THOUGHT THE EXPLICIT VER WAS JUST GONNA BE BC OF LATTOS VERSE NEVERMIND JEON FUCKING JUNGKOOK SAYING HES GONNA BE FUCKING ME RIGHT WTF DO U MEAN?????????? FUCK OFF?????? HELP??????? pic.twitter.com/5PnIKZZLFu

— emble ∞♡ ︎ (@lichuuli) July 14, 2023
10) And I wouldn't have it any other way.
ngl y'all but with the amount of times I've played this song today, this about to be me tonight when I hear Jungkook whispering "I'll be fucking you right" in my sleep pic.twitter.com/2fsr4UYxZc

— nugu era⁷ 🐰🎰 (@yoonibbler) July 15, 2023
11) Is anyone else down bad?
12) And I oop.
God bless Jung Kook.
Jung Kook - 'Seven (feat. Latto)' lyrics
VERSE 1: Jung Kook
Weight of the world on your shoulders
I kiss your waist and ease your mind
I must be favoured to know ya
I take my hands and trace your lines
PRE-CHORUS: Jung Kook
It's the way that you can ride
It's the way that you can ride (Oh-oh-oh-oh)
Think I met you in another life
So break me off another time (Oh-oh-oh-oh)
You wrap around me and you give me life
And that's why night after night
I'll be fuckin' you right
CHORUS: Jung Kook
Monday, Tuesday, Wednesday, Thursday, Friday, Saturday, Sunday (A week)
Monday, Tuesday, Wednesday, Thursday, Friday
Seven days a week
Every hour every minute every second
You know night aftеr night
I'll be fuckin' you right
Seven days a week
VERSE 2: Jung Kook
You lovе when I jump right in
All of me I'm offering
Show you what devotion is
Deeper than the ocean is
Wind it back I'll take it slow
Leave you with that afterglow
Show you what devotion is
Deeper than the ocean is
PRE-CHORUS: Jung Kook
It's the way that you can ride
It's the way that you can ride (Oh-oh-oh-oh)
Think I met you in another life
So break me off another time (Oh-oh-oh-oh)
You wrap around me and you give me life
And that's why night after night
I'll be fuckin' you right
CHORUS: Jung Kook
Monday, Tuesday, Wednesday, Thursday, Friday, Saturday, Sunday (A week)
Monday, Tuesday, Wednesday, Thursday, Friday
Seven days a week
Every hour every minute every second
You know night after night
I'll be fuckin' you right, seven days a week
Monday, Tuesday, Wednesday, Thursday, Friday, Saturday, Sunday (A week)
Monday, Tuesday, Wednesday, Thursday, Friday
Seven days a week
Every hour every minute every second
You know night after night
I'll be fuckin' you right
Seven days a week
VERSE 3: Latto
Tightly take control, tightly take his soul
Take your phone and put it in the camera roll (Uh)
Leave them clothes at the door
What you waitin' for? Better come and hit ya goals
Uh, he jump in it both feet
Goin' to the sun-up, we ain't gettin' no sleep
Seven days a week, seven different sheets
Seven different angles, I can be your fantasy Open up, say, "Ah"
Come here, baby, let me swallow your pride
What you on? I can match your vibe (Vibe)
Hit me up and I'ma Cha-cha Slide (Skrt)
You make Mondays feel like weekends
I make him never think about cheatin'
Got you skippin' work and meetings
Fuck it, let's sleep in, yes
CHORUS: Jung Kook
Monday, Tuesday, Wednesday, Thursday, Friday, Saturday, Sunday (A week)
Monday, Tuesday, Wednesday, Thursday, Friday
Seven days a week
Every hour, every minute, every second (Oh-oh-oh)
You know night after night
I'll be fuckin' you right
Seven days a week (Oh)
Monday, Tuesday, Wednesday, Thursday, Friday, Saturday, Sunday (A week)
Monday, Tuesday, Wednesday, Thursday, Friday (Ooh, ooh, ooh, ooh, ooh)
Seven days a week
Every hour, every minute, every second (Hour, minute, second)
You know night after night
I'll be fuckin' you right
Seven days a week
The Witcher Cast Interview Each Other | PopBuzz Meets