BRITS 2017: Katy Perry's BRITs Performance Was A Massive F*ck You To Donald Trump And Theresa May
22 February 2017, 21:31 | Updated: 8 May 2017, 17:09
Do those skeletons look familiar to you?
Katy Perry's performance at the BRIT awards was the one we were all waiting for - particularly after her Grammy's gig last week where she showcased her new politically charged ~purposeful pop~ song 'Chained To The Rhythm' and appeared to call out President Donald Trump with a few sneaky references in the process.
As expected, she took to the stage of O2 Arena in London with her new blonde hair and Hillary-esque pantsuit and belted the bubble banger for the first time in the UK.
Half way through the performance, two GIANT skeletons took to the stage to join Katy, Skip Marley and the dancing houses in a glorious gathering. But did you happen to spot anything familiar about them?
via giphy.com
Anything at all? What about now?
Oh my god... @katyperry's skeletons were dressed as Theresa May and Donald Trump #KatyPerryBRITS #brits pic.twitter.com/6qteppsRyu

— PopBuzz (@popbuzz) February 22, 2017
Yeah... she did THAT.
Did anyone else realise the skeletons on Katy Perry's Brit Awards performance is Theresa May and Donald Trump? #BRITs2017 pic.twitter.com/0Li55hMHV4

— Natalie Lewins (@LewinsNatalie) February 22, 2017
The skeletons were clad in the same outfits that Trump and May wore when the British PM visited the White House earlier this year.
THOSE SKELETONS IN KATY PERRY'S SET LOOK MIGHTY FAMILIAR #BRITs2017 pic.twitter.com/9m1zhrRdil

— Vicky W (@vickysings) February 22, 2017
We're not sure what Theresa May ever did to piss off Katy but...
Trump and May made an appearance in @katyperry performance as skeletons, how original #BRITs2017 ha! I like her hidden message.

— Lloyd J Blake (@LloydBlake21) February 22, 2017
The reference did not go unnoticed.
Katy Perry's performance at the #brits featured the skeletons of Donald Trump and Theresa May pic.twitter.com/5xPxoJ88Dk

— Lee (@LeeAveriss) February 22, 2017
Absolute savagery.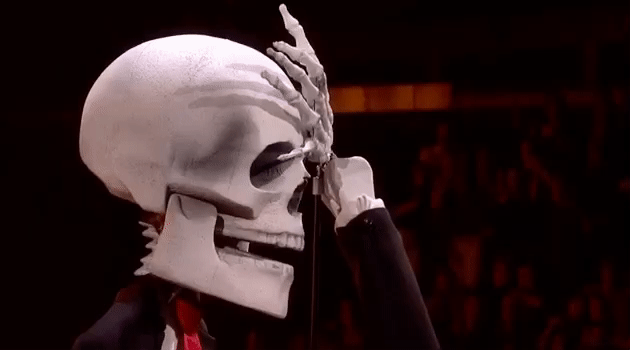 via giphy.com
*GASP*
via giphy.com
Watch the skeletons in action below:
Anyone else getting a Halloween vibe right now? #BRITs @katyperry #Katycats #KatyPerryBRITS pic.twitter.com/4G0ICr3wPd

— PopBuzz (@popbuzz) February 22, 2017