Kesha Is An Artist Worth Fighting For And Here's Why
22 February 2016, 17:30 | Updated: 8 May 2017, 17:09
#FreeKesha
Last Friday (19 February), the entire music world was on tenterhooks awaiting the result of Kesha Rose's preliminary injunction against Sony Music and producer Dr Luke. And when, after what seemed like mere minutes, the singer's request to be freed from her contract with Sony was denied by a New York Supreme Court judge, there was, to say the least, absolute pandemonium.
Social media was a-buzz with the tag "#FreeKesha", while others were tweeting "#SonyMusicSupportsRape" and "#JusticeForKesha". In a bold move, fellow musicians and celebrities also came out in support of Kesha, chastising the devastating decision.
For those unaware, Kesha Rose (formally known as Ke$ha) has requested to be freed from her recording contract with Sony Records, or to be more specific, an imprint of Sony Records run by Dr Luke called Kemosabe Records.
In her lawsuit, which was originally filed in 2014, Kesha has accused producer Dr Luke, real name Lukasz Sebastian Gottwald, of physical and sexual abuse ranging back to when she first signed to his label when she was 18 years old. I won't go into the details here, but they're pretty disturbing and troublesome.
According to Gottwald's legal team, the producer (and through him Sony Music) have invested "$60 million" into Kesha and have given her the opportunity to record without him involved. Because of this, the judge stated that she had to "do the commercially reasonable thing", leaving Kesha floundering in her record contract, something her representatives have said would cause irreparable damage to the singer's career as the label's interests lie with Dr Like.
The whole situation is incredibly sad and I truly hope that Kesha gets the justice that she deserves.
Inadvertently, Kesha has become a beacon for many survivors of abuse, as well as a mainstream representation of why many people fear coming forward about abuse. Her story has instigated a discussion around an important issue that many feel too frightened to talk about, and also (again) highlights the unjust and unfair treatment of women. As the judge ruled, the commercial commodity is worth more than the person at its heart.
Pop culture has become the place where socio-political issues become normalised in terms of discussion, and discourse around feminism, racism, homophobia and transphobia is rife. It's most definitely important that society writ-large becomes aware of what many people suffer everyday.
However, and I say this with upmost respect and affinity for Kesha, it'd be a travesty for this to define her.
You see, behind the glitter, hair, partying and bottles of Jack is a talented, unicorn of an artist who not only shaped a moment in pop culture history and inspired many fans but is also responsible for some f*cking amazing songs.
A certain producer aside, without Kesha we'd never have had this absolute MONSTER of a song and video.

Likewise, Britney Spears would never have been gifted her iconic apocalypse banger "Till The World Ends", which has soundtracked the outro to her Vegas show for two years and at the time gave Spears one of the biggest radio hits of her career.

In 2014, a song called "Lover" leaked online that showcased an even more mature element to Kesha's songwriting and ability. Melding the erratic electronic production style of Guy Sigsworth and break-beat percussion, the track is an exciting insight into the creativity of a woman with SO much more to give, and someone thirsty for freedom to express herself.

As I said, it's important that we continue to discuss the moral and ethical implications of what is at play here; at its core is a woman who is being forced to work with her alleged abuser and, through him, his employers. The fact that it's raising awareness for the often silenced voices of those who have suffered abuse is on the one had difficult and the other revolutionary. And, as Jezebel points out, it highlights an incredible bias in legal systems around the world.
Yet reading through an article on The Fader, it seems that, like me, Kesha's fans are really concerned with the wellbeing of their favourite artist and that she, in some way, can continue to create art and inspire through her music. As Kesha herself said in an interview with EW, she's "dying to put out music, I'm like dying, literally".
So, while we're all thinking of Kesha during this difficult time, let's also remember that she's one kickass artist who gave the world this.

I for one will go down and yell Timber if she's not able to express herself in the future #FreeKesha.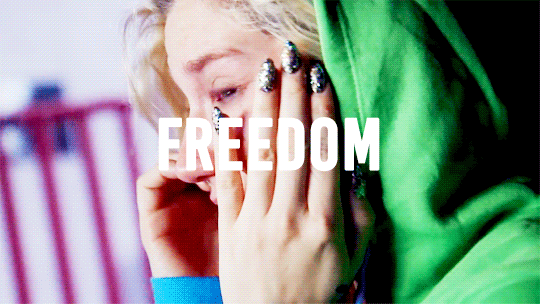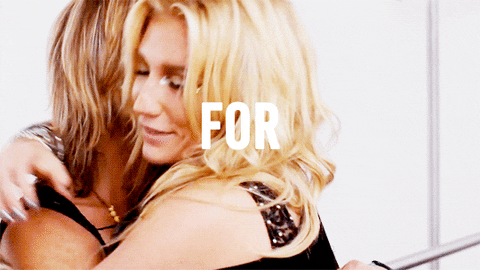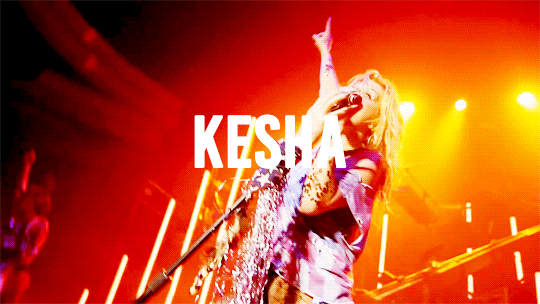 dailykesha.tumblr.com