LANY Interview: "Troye Sivan Was At Our First Show"
6 September 2016, 12:30 | Updated: 8 May 2017, 17:09
We catch up Troye, Matty Healy and Halsey's fave new band before their sold out London show.
Hidden in a back alley in the West End of London, nightclub Heaven is adorned with a poster advertising the upcoming appearances by several key cast members of RuPaul's Drag Race and London's comedy PM in chief Margaret Thatcher Queen Of Soho. The café next door does its regular lunchtime trade as city workers use the short street as a cut between the tube station and Waterloo bridge.
But one unfamiliar sight today blocks the path for the more casual commuter as large groups of teenage girls line themselves along the wall expectantly. Some have brought makeshift McDonalds picnics, others are shivering under their hoodies as phones blast out cheery, uptempo guitar-led bops fit for a roofless drive around a Californian cliff face. It can only mean one thing - LANY have come to take over the UK.
Since their sudden rise to fame thanks to some well-placed internet releases, vocalist Paul, drummer Jake and and keyboardist and guitarist Les have unveiled several catchy singles that have captured the imaginations of their ever-growing fangirl community - "yea babe, no way" even getting that most coveted seal of approval - an addition to the PopBuzz Radio playlist.
As they land in Britain for their first full headline tour, we chatted about the future, the power of celebrity fans and what makes the perfect crowdsurf.
PB: So you guys all went to school together in Nashville - what was the music scene like out there? To a Brit it presents a kind of country image...
Paul: There's a lot going on out there.
Jake: Even in the US people think Nashville = country music. But there's all kinds of stuff.
PB: Did you guys grow up playing in bands?
Les: I'd never been in a band before. This is my first band.
Paul: I was in a couple of hilarious little ones...
PB: Any bad names?
Jake: I was in a band called "Very Special Guests".
PB: That'll look good in a poster.
Jake: It was around 7th or 8th grade. 7th grade we were "Circletown Drive".
PB: So what social cliques were you rolling in? Who was the jock? Who was the geek? Any sports teams?
Jake: I was in band. Snare drum.
Les: I was in choir.
Paul: Yeah I was in choir and I was also on the tennis team.
PB: Tenor or bass in choir? What are we talking?
Les: Tenor.
Paul: Baritone. I couldn't hit some of those tenor notes. Anything past an F sharp...
PB: That's not bad though.
Les: That's a second tenor part.
Paul: Well...I was a baritone...
PB: What was the first rock show you ever went to?
Paul: Have you heard of a band called Reliant K? There like this emo rock band. I was like 14.
Les: Actually my first one was Stix and REO Speedwagon.
Jake: Well there's a girl group called Point of Grace. It's this Christian girl band. And my grandma was their voice coach in college. So I was like 7 or 8 and I thought I was the coolest guy 'cos I met Point Of Grace. But then my first rock show was probably Pearl Jam.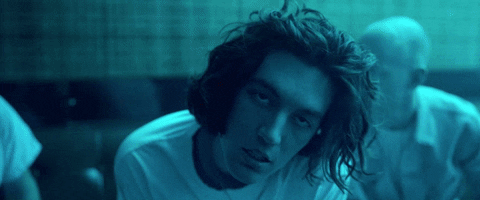 Interscope
As Seal's Batman-related ballad "Kiss From A Rose" blasts out of the onstage sound system, we get a sense of the style of epic shows LANY are keen to emulate in the future. There's talk of large LED squares with custom GIFs looping in the background. Aesthetic and imagery are clearly an important aspect of the group's makeup. Which begs one very important question...
PB: When you first posted music on Soundcloud, why was the profile picture of Michael Jordan and Magic Johnson?
Paul: I had seen the image on the internet and slapped LANY over it and just thought it was a cool kinda thing. I think people in the UK or in Europe who are unfamiliar with American basketball thought that it was two black guys. Two guys in basketball jerseys on a couch that had made these two songs.
LANY
But despite their early artwork looking like a low-rent poster for a Space Jam sequel, the boys were soon catching the attention of many famous and high profile admirers, boosting their profile majorly when they were offered the opportunity to tour with two of the most talked about pop artists around - Troye Sivan and Halsey.
PB: How was it touring with Troye?
Paul: He's great. Even before we went on tour, probably about a year before we went on tour, he came over to our apartment...he was at our very first show that we ever played in Hollywood at the Sayers club so he's kind of known about us from the very beginning...those shows were so important for us, those and the Halsey shows were massive.
PB: Collab with Troye or collab with Halsey?
Paul: Aww man that sucks, I don't wanna hurt anyone...
Jake: Yeah I was gonna just say both. I wouldn't be able to sleep at night if I didn't pick the other person.
Paul: I think a female vocal on a LANY song would be interesting.
Troye Sivan on his Instagram story!! pic.twitter.com/aCPDN4WzXq

— LANY (@LANYxLA) August 31, 2016
PB: Have any famous fans freaked you out?
Jake: We played SXSW and Christian Slater was there. That was awesome.
Paul: Sam Smith - we'd never met him. And I just remember being home and all of a sudden my phone just started to blow up cos he had posted artwork for our EP "I Loved You". We didn't know that he even knew we existed. Obviously we knew that he exists. What was so crazy was we played an in-house show at the Soho House in New York and out of just sheer chance he happened to be there that night. And I just went up to him and was like "I know you have no idea who I am but I'm Paul from LANY" and then he was like "Oh my gosh"...So he came down. It was kind of a crazy night.
PB: You guys keep namedropping Matty Healy in interviews too, have you had any contact?
Paul: I just met him at Coachella for the first time. So nice. I know he follows the band. I was telling him and and Adam that I was at their show in Tulsa Oklahoma in 2013 when they were opening up for The Neighbourhood. I paid $5 for that ticket. So that's the first time I'd really met them but I love what they do and I think they've done an incredible job.
PB: What has been the worst name pronunciation you've had?
Jake: Worst mess up? Maybe LANVY?
Paul: Yeah Spotify put us as LANVY one time. It was crazy they put us up as Lany then we reached out and were like "no it's all caps" so they changed it to LANVY...just like a little creative direction, little art direction. "Let's add a v".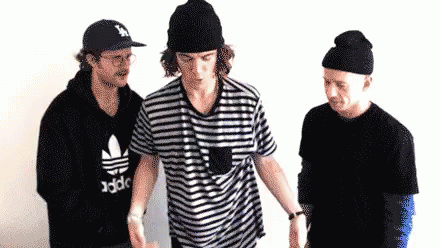 LANY
As the crowd of girls lined up outside grows ever louder, we examine some of the finest gifts the fans have passed on - Josh's army dogtags, Paul's gold bracelet. The UK audience has clearly taken these summery anthems to heart, brightening the rainy grey skies of West London. Gigs in Glasgow and Manchester have achieved levels of sheer hysteria, Paul even attempting his first ever crowdsurf at the latter's Sound Control venue as the boys all demonstrate their finest Superman arm movements. And now that the new music is ready to drop, they should have more arms ready to catch him at their 2017 shows.
PB: Sum up the Kinda EP in one word that isn't Kinda.
Jake: Brilliant.
Paul: Summer, charming, dreamy.
PB: Sum up the Kinda EP in 3 emojis.
LANY: Rose, 100, watermelon.
PB: Lastly, when can we expect the full album boys?
Paul: Next year.
PB: Is it gonna be an amalgamation of the EPs and some new stuff?
Paul: We're having a lot of conversations.
Jake: Changes on the daily.
The "Kinda Ep" is out now.