People Think Little Mix's New Video Is Too Sexy, But The Gag Is... The Song Is About Sex
20 January 2017, 13:21 | Updated: 8 May 2017, 17:09
Listen to the lyrics 2k17
Little Mix have finally released the music video for what is, inarguably, the best song of their career. Director X called up the ladies and said "it's time", so our favourite gals dusted off their body suits and thigh-high boots and got to werk.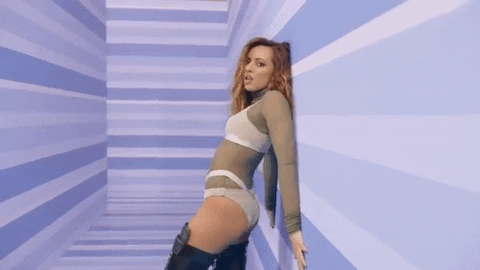 via giphy
The video is getting mostly positive feedback (why wouldn't it? It's art) but people are also noting how much the girls have upped the sex factor when compared to previous videos.

Some are even calling the video "inappropriate".
Twitter/@Daleydirection2
Twitter/@LisaM_Catchpole

That's, like, a very groundbreaking opinion. But I would like to present the following arguments:
Exhibit A: "Touch" is literally a song about having sex.
Exhibit B: "Touch" is literally a song about having sex, with visual aid.


Something else to consider: Little Mix never agreed to raise your kids.
Well, lots of people are coming to Little Mix's defense and trying to challenge the purity stan narrative.
PEOPLE THAT ARE SAYING THAT LITTLE MIX MUSIC VIDEO IS TO INAPPROPRIATE LEAVE THEY ARE GROWN WOMEN NOT LITTLE GIRLS

— Isabel(@IsabelTrillo) January 20, 2017
people writing negative comments about how inappropriate little mix' new video is are just a bunch of hypocrite misogynists

— maggie (@LIZIEMAXIMOFF) January 20, 2017
okay, people. everyone who keeps saying the new little mix mv is inappropriate, just STOP. first it's fucking called 'touch' so pls

— emilee (@tonkinkordei) January 20, 2017
via Metro UK
What do you guys think? Is Little Mix responsible for raising and nurturing all their five-year-old fans or should ya'll let these girls wear their body suits in peace? Tell us in the comments below!
___ ___ ___ ___ ___
From Brendon Urie to The Vamps, here are the best bits from the #PopBuzzPodcast in 2016. Listen right here or subscribe for free on iTunes to get new episodes sent straight to your phone every Wednesday.