Marina And The Diamonds Is Taking More Time Off From Music For A Very Good Reason
11 September 2017, 13:05 | Updated: 11 September 2017, 13:38
"It takes a long time to get over yourself"
We have good news and bad news if you are a fan of Marina and the Diamonds. The good news is that Marina's come out of hiding and started a new Tumblr blog. But the bad news is that you won't be getting a new album any time soon.
It's been a minute since we last heard from Marina Diamandis, so for those who might need a little catch up here's a brief refresher. Marina released her third album, FROOT, in 2015 to the best reviews of her career and better-than-expect sales, despite receiving little to no radio support. After touring the record for the best part of a year afterward, in March 2016 Marina announced she was taking a year-off to recharge her batteries and to "do some different things".
It's been a year and a half since then and fans still hadn't received any news on whether Marina had been working on new music, with the exception of a collaboration with Clean Bandit on 'Disconnect' (which is actually amazing). However, over the weekend Marina finally broke her silence to give fans an insight into what's been happening in the last year via a new Tumblr blog called Marina Book.
fuckyeahmatd/tumblr
In her first post titled 'It Takes A Long Time To Get Over Yourself', Marina writes that her year hiatus hasn't all been smooth sailing, and explains that she has been experiencing a disconnect between her on-stage persona as 'Marina and the Diamonds' and her IRL self.
"I can't remember when I first became conscious of it but I started to feel like there were two parts of me, artist self and private self", Marina writes, "and there was nothing in between to link the two anymore."
She continues, "I was one or the other, and neither part of my personality could be present in the same environment. Perhaps because I'd spent most of the past 8 years devoted to being an artist and this hadn't presented many opportunities for other parts of my personality to grow. When one part of a personality dominates, other parts shrink and life can take on an unreal, two-dimensional quality. I felt confused as to why I no longer felt like I longer fit into the world I'd built. I don't think my feelings are exceptional (particularly in entertainment) but I wonder if you are someone who has experienced this in a different context."
Perhaps this goes some way to explaining the sentiments behind the lyrics to 'Disconnect'? Just a thought...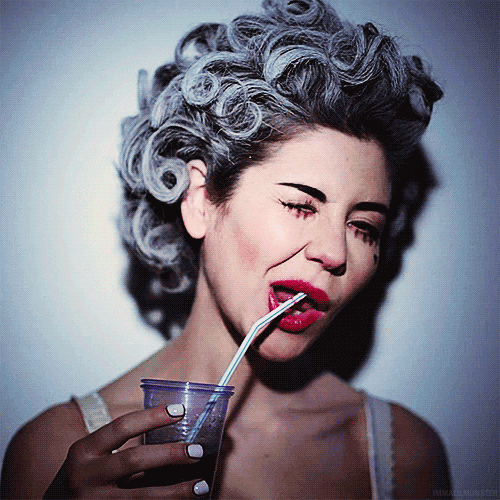 GIPHY
After a year that Marina describes as "painful and slow", she says she's in a more genuine space that she was a year ago and "would never want to go back to that stunted way of being again". She also hints of more blog posts about her identity to come. "My image is no longer a main source of identity, nor are previous signifiers like clothing (more on this in a future post), designer brands + other things I subconsciously used to define myself."
So what about new music we hear you cry? Well, it sounds like Marina is focusing on herself first before stepping back into the studio. Oh, and starting a psychology course.
"Truth is, I'm not planning ahead much right now. I am indeed going through my "what should I do with the rest of my life" phase that most people go through at 21. Which is… cool. But I'm grateful to have the opportunity to explore different interests, and starting marinabook is a part of that. I'm starting a Psychology course soon, which I am SO excited about, and I'm ready for a brand new chapter. I hope you'll be a part of it.
"Some people have been asking about new music and I'm always flattered to be asked. I know one year is like an aeon in digital time. The honest answer is I don't know when that will be, but the connection I have with music has always flowered from an honest connection with myself, and I trust my instincts."
Ok, so the album isn't coming any time soon but we are super excited to see what happens on this blog. We'll be watching it VERY closely.
GIPHY