WATCH: Millie Bobby Brown Just Made Her Music Video Debut And It's An Eleven Out Of Ten
4 November 2016, 12:24 | Updated: 8 May 2017, 17:09
See Millie lip sync for her life in this emotional new video.
Step aside Maddie Ziegler, for we have a new just found our new music video Queen!
Millie Bobby Brown, aka Eleven from Stranger Things, aka Queen of our damn lives has just made her music video debut in the new video for Sigma's song "Find Me" ft. Birdy. The video follows an emotional Millie zooming around a city as she lip syncs the lyrics to the song.
Watch the video below:
How the hell did Eleven end up in this random music video, we hear you cry? Well, it turns out that Birdy is a big fan of the Netflix show and she asked MBB to be involved in the shoot. And well, it kinda worked out 'cause Millie is apparently a big fan of her music too!
Millie isn't the first Stranger Things kid to appear in a music video this year either. A few weeks ago, Panic! At The Disco dropped the video for "LA Devotee" featuring the Upside Down's very own Will Byers (Noah Schnapp) and it was WILD.
Right, we're setting up an official petition to ban any and all future celebrity cameos in music videos unless they're one of the kids from Stranger Things.
Sign your name in the comments if u agree.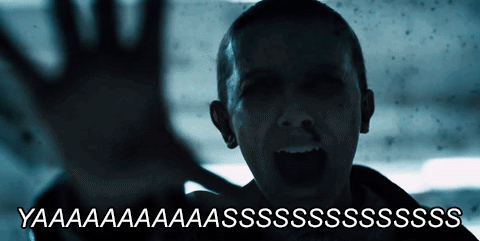 via giphy.com
___ ___ ___ ___ ___
Subscribe to the #PopBuzzPodcast for free on iTunes to get new episodes sent straight to your phone every Wednesday.