We Asked Nathan Sykes 30 Quick Fire Questions And Here's What We Learned
29 October 2015, 13:08 | Updated: 8 May 2017, 17:09
Sweet potato or regular potato? Favourite Little Mix song? Beyoncé or Nicki? We got it all.
Nathan Sykes is quite the soulful crooner isn't he? His last single "Kiss Me Quick" was a horn driven funk-a-thon, with a chorus that is so insanely catchy its almost criminal.
Now, for his second solo single "Over and Over Again", Nathan has decided to take things slower. The results are pretty emoshe, tbh. The song's accompanying video is also a weep-fest, and is giving us serious Nicholas Sparks teas (um, Nathan should TOTES be in a Notebook style movie, right?).
Ahead of the single's official release, we caught up with Nathan and had a get to know each-other session where we learned that it's Beyoncé over Nicki and that sweet potatoes are his fave...
PopBuzz: Hello Nathan, how are you?
Nathan Sykes: I'm very well thank you.
PB: How does one "kiss me quick" exactly?
NS: Passionately.
PB: Who would play you in a movie?
NS: [Laughs]. I don't know. Actually, I don't think they're born yet.
PB: Ok...Which part of the chicken is your favourite to eat?
NS: I'm a pescataria, so I don't eat chicken.
PB: Oh.
NS: Save the chickens. It's like Chicken Run all over again.
PB: Sweet potatoes or regular potatoes and why?
NS: Sweet potatoes because I'm not a fan of regular potatoes. I'd go for mashed potatoes over sweet potatoes though. But sweet potatoes mashed isn't an option.
PB: You can have mashed sweet potatoes.
NS: Can you!? I'd take sweet potato mash.
PB: What's the song you can't stop listening to over and over again.
NS: If I was going to be really shameless I'd plug my own single "Over and Over Again". But, I'm going to say Alessia Cara's "Here".
PB: Would you ever do a song with Fetty Wap
NS: Who?
PB: He did "Trap Queen".
NS: Oh. Never say never, but probably not. Wait, that's a really bad answer isn't it...I'm always open to creative opportunities with other artists [laughs].
PB: What makes the perfect tweet.
NS: 140 characters stop on. It gets me so excited when that happens.
PB: Have you ever accidentally liked someone's Instagram picture while stalking people?
NS: All the time. But if you like someone's picture and then unlike it after a certain amount of time does it not show?
PB: I think if they have push notifications on it'll show up as you liking it.
NS: Oh god. Oh dear. That's scary.
PB: Do you stalk your fans?
NS: Oh I stalk them all the time. I've got to know what they're saying about everything. Because they might say one thing to your face and another on social media. Like they'll go, "Nathan looks really good in this photoshoot" , and then behind my back they'll be like, "Doesn't he look terrible!"
PB: Do you call them out on it?
NS: All the time.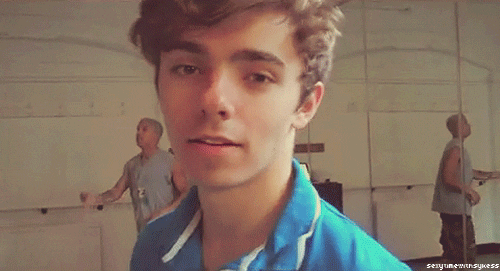 PB: Who would you Netflix and chill with?
NS: Myself. I like a marathon and I don't like people interrupting me asking me what's going on.
PB: What instrument do you wish you could play?
NS: The guitar. It's a lot easier and mobile than a piano. Every time I talk about taking a piano around I feel like Bruno Mars in the "Grenade" video [laughs]. I think a guitar would just be more practical.
PB: If you were a musical impersonator who would you impersonate and why?
NS: Michael Buble because I love all the songs that he sings and what he does with those songs. Also, you'd never stop working. People would always want to hire you as a musical impersonator of Michael Buble because it's Michael Buble.
PB: People love the Bubes.
NS: They really do.

PB: How do you, Nathan Sykes, prep for a night on the town?
NS: I don't really prep. I just kinda roll out, I suppose. Make sure that other people are coming! [laughs].
PB: Have you ever been stood up on a date?
NS: No, because I don't do dates. I always become friends with someone first before we start dating. So any technical dates would be in a friendship group, first. I've never really been on a date, which is strange.
PB: That's quite sad but also amazing. You're going on tour with Little Mix. What's your favourite Little Mix song?
NS: I love their new one, "Love Me Like You". It's SO. GOOD. Every time it comes on in the car... Actually, I was caught the other day singing it at the top of my voice and then I looked over and someone was laughing at me.
PB: It sounds like a Christmas song.
NS: There's a Christmas version on the EP...Fan! I'm a ridiculous fan.
PB: Ok, let's get serious. If the world were burning into eternal damnation and you could only save one member of Little Mix who would you save and why?
NS: Wow.
PB: Shall I tell you mine and you can riff off of that?
NS: Go on.
PB: It'd have to be Jesy because she is incredible. I think you'd have a life full of lolz with her. So if you were left with just one person and it was you and her I think you'd need the funnies.
NS: She'd find humour in a dark situation. She's also engaged to a mate of mine, Jake from Rixton, so I'd save her for Jake because he'd want me to do that.
PB: Which vegetable do you hate with a passion?
NS: Green beans. I don't avoid eating them, but they're just pointless and wet.
PB: And which vegetable do you love with a passion?
NS: I like asparagus. It's got depth. If I were a vegetable I'd be an asparagus.
PB: Which album do you wish you'd written and recorded?
NS: I could be really predictable and say Adele's 21 because there's so much songwriting depth to it; it's so brilliantly written. Or I could say John Legend's Get Lifted - that album has been my jam for most of my life. It's such a good album and the vibe on it...I don't think anyone has successfully be able to do anything like that since. Or Usher's Confessions!
PB: What's the scariest thing about going out into the music industry solo?
NS: Having to talk more interviews.
PB: When will Rihanna drop her album?
NS: Hopefully not November 20 as that's the day Adele is dropping her album. We don't want some Adele vs Rihanna fight as that'd just be dangerous for the music industry. Do you think she'll 'Beyoncé' it? I think soon. Maybe the next few weeks.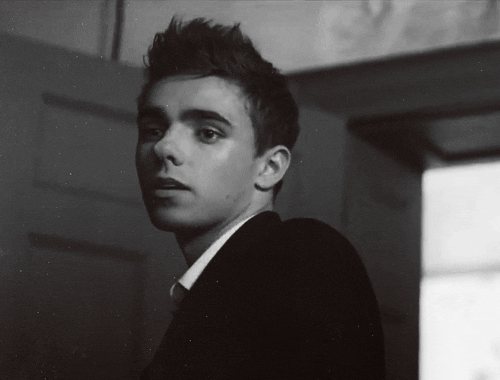 PB: We'll hold you to that. What's the weirdest thing you'd do for money?
NS: I'd do or have done...
PB: Would do. I don't think we should cover whatever it is you might have done...
NS: [Laughs]. I don't think there is anything weird I'd do for money. I'm quite respectable in that sense. I think if I'm not comfortable with something I wouldn't do it.
PB: What are you, Nathan Sykes, excited for in the future?
NS: My album as I think it's going to surprise a lot of people.
PB: Which flavour of Ribena is your favourite?
NS: Blackcurrant. But hot. It's that time of year as well. I put the kettle on the other day and was like, "I need hot Ribena. It's ok to drink it now."
PB: Have you ever danced in a water fountain?
NS: I think I have. I'm not sure if the fountain was on.
PB: Where would you never dance?
NS: [Laughs] In a dance off with Diversity.
PB: Beyoncé or Nicki?
NS: I love them both, I'll say that for my own safety. But I like listening to singers; I'm more into singing than rap so I'd say Beyoncé.
PB: Finally, what's The Wanted's best song?
NS: "Show Me Love" - it's the song that's most my taste.
PB: Thanks Nathan!
Nathan Sykes' "Over and Over Again" is available to download 20 November and stream right now.