Nicki Minaj Proves Yet Again Why You Don't Mess With The Queen Of Clapbacks
14 December 2015, 12:52 | Updated: 8 May 2017, 17:09
Nicki is not taking ANYONE'S crap.
Being a successful woman in any male dominated industry is always a struggle. Whether we're talking tech, gaming, politics or even rap, breaking into a boys club is not without its challenges. Just ask Nicki Minaj.
At 33, she has established herself as one of the highest paid female rappers of all time, revolutionized how pop acts and rap acts work together, and had a serious hand in shaping popular culture. Yet, her accomplishments are constantly being diminished by sexist criticism of her body and, to a lesser extent, her race.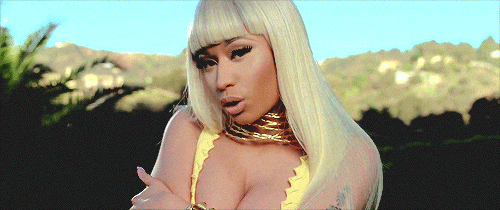 From the beginning, Nicki has had to defend herself from her peers and the media as well. The rapper was involved in a war of words on Twitter when entertainment site Bossip appeared to take some not-so-subtle swipes at her.
It all started with this tweet..
Really, does a female rapper have to be top notch to make it? I see a lot of so-so male rappers in the game...

— Bossip (@Bossip) December 11, 2015
Because Nicki Minaj is the most recognizable female face in rap at the moment, the comments about her appearance instantly started pouring in. Bossip retweeted disparaging remarks about Nicki including this one.
Yep, men are visual creatures they don't care if you can sing...That's why nicki had to buy an ass to blow up! #Fact https://t.co/k2cei7Pu6t

— #$ettinTrendsONhoes (@ILOVEBLACKMEN01) December 11, 2015
Nicki has never been one to stay silent in a situation like this, so she quickly clapped back at the comments Bossip was retweeting.
I've gone toe to toe w/everyone of your favorite male MC's. To undermine my skill & diversity as an MC is actually comical @ this point.

— NICKI MINAJ (@NICKIMINAJ) December 11, 2015
I saw Bossip retweeting ignorance so I figured I'd put that out there. Lol. The greats give me my respect. The great journalists as well.

— NICKI MINAJ (@NICKIMINAJ) December 11, 2015
If a male rapper was on tracks w/Wayne, Jay, Eminem, Kanye, etc going ROUND 4 ROUND he'd b hailed as a GREAT as well. Jealousy is a disease

— NICKI MINAJ (@NICKIMINAJ) December 11, 2015
Not giving me my props doesn't stop me from being great. I am a mogul. Your hate is what made this possible. Lol. Thank uuuuuu! Mmuuaahhh!!!

— NICKI MINAJ (@NICKIMINAJ) December 11, 2015
To imply someone's ass is the reason they get on tracks and hold their own with every great MC who is still alive black ppl, do better lol

— NICKI MINAJ (@NICKIMINAJ) December 11, 2015
Nicki's clapback was completely on point. The assertion that "men are visual creatures" and that's why she has been able to land her landmark features is truly absurd.
On 2010's "Monster", Nicki raps the line "So let me get this straight, wait, I'm the rookie? But my features and my shows ten times your pay? 50k for a verse? No album out?" That wasn't just a bit of bravado. That was a bit of real life from Nicki's early days. It's unheard of, even today, for a rapper with no debut album to command 50 thousand dollars for a verse. Having a big butt isn't going to change the fact that there needs to be a level of talent to warrant a 50 thousand dollar verse.
In the five years since Pink Friday's debut, Nicki has worked with some of the biggest names in rap; she has won countless awards; and completely annihilated her competition. Male and female. Anyone who tries to take away her accomplishments by suggesting it was her body that got her this far is a misogynist and an idiot.
In times like these, when femcees are still held down by impossible standards and as men continue to surge ahead in the race for rap dominance, we have to support hard working women who are unafraid to speak up for themselves. Whether or not you agree with Nicki's image, outspoken nature, or propensity for risque clothing choices, you still have to give credit where credit is due.
Nicki Minaj is a great one and no amount of subtweeting is going to change that.