The Pentatonix's Guide To Making The Perfect Party Playlist
4 November 2015, 18:27 | Updated: 2 November 2020, 17:40
And we also chatted about their chart battle with Demi Lovato.
If you don't know who Pentatonix's are, then you really should.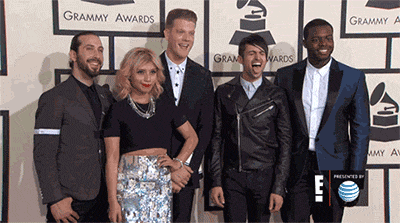 After forming in 2011 for an a cappella TV competition, The Sing Off, they went on to become Youtube superstars with their channel amassing over 9.1 million subscribers and 1.1 billions views.
After years of covering other people's songs on Youtube, and successful compilations and world tours, Mitch, Scott, Kirstin, Avi and Kevin decided to take the bold step of writing and releasing their own music. And boy, has it pay off!
They beat Demi Lovato to the number one spot on the Billboard album chart by just 271 sales! And it's looking likely to be their most successful record to date. We sat down with the band and discussed their new album and they also taught us how to make the perfect mixtape, and included some of their favourite tracks, too. Thanks Pentatonix!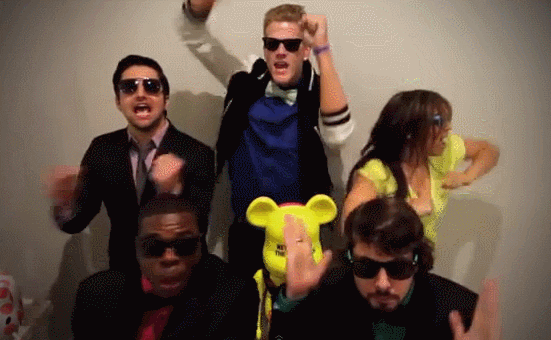 Congrats on your number one album! How are you feeling about it?
Scott: Thank you, we're feeling great. We've been buzzing all week about it, for sure.

Did you have a big party afterwards?
Scott: Kind of. We (Scott & Mitch) spontaneously went out and invited all our friends that were available to spontaneously go out that night in LA.

I think I would have gone on a three day bender if I was you.
Mitch: It's off and on. We drank on the plane, it's still going (laughs).

Do you feel like your proven something now you've released an album of original songs and it's been a success?
Scott: Yeah, absolutely. It's weird because we don't really have a song on the radio, we don't have any hits, so it kinda feels like it came out of nowhere. It means our fans are really dedicated and that awesome.

Was there any anxiety about releasing an original album?
Mitch: Oh my god, yeah! It's exciting and nerve-wracking because it's such a vulnerable thing to release all original songs. We never really have released original music before but it seems to be going well and hopefully it will continue to just...climb.

How did selecting original songs for the album differ from choosing cover for Youtube?
Avi: I feel like the original songs were a lot close to our hearts, so we felt more strongly about it. Also, we wanted to showcase a lot of the different things we did. With covers, it's not as personal, so it took a lot more thought.
And did the album turn out how you had imagined?
Scott: We didn't have an outlining vision, we just wrote and wrote and wrote. All five of us are so different, we have five very different tastes in music so we all just wrote as many songs as we could. We probably had a pool of 50 songs and then narrowed it down to be cohesive.

I was wondering how it would work, five singers writing together, as opposed to the usual scenario of one singer in a band. There must have been some tension, or at least, you had to be very diplomatic with each other?
Scott: Well we tried writing together a couple of times and that doesn't really work. We learn that writing individually or in duos is better, and usually the person writing will write a solo for themselves or who they're envisioning it for. Then we pick up the song together.

What happens when you do write as together?
Kirstin: The ideas are so different. It's just hard.
Kevin: We shoot down ideas really quickly because everybody writes so differently and it's hard to get a good work flow going.
Scott: Songwriting in general, not just us, but when you have too many people in the room, there's too many 'no's'. The inspiration can't flow. But when you're in twos or threes, it's easier for people to get on the same page.

Let's talk about your chart battle with Demi Lovato. In the end, there was only 271 records in it. Has it ever been so close?
Scott: I don't think it has. I think it's like the closest chart race in history, since they've been counting. What made that so crazy is that we were working so hard all week. Adding extra things, extra phoners, every single interview we could do, and we would add a meet and greet. It came down to the fact that everything we did counted so much.

It's crazy. But I do feel like you should, by way of apology to Demi, do a cover of 'Cool For The Summer'.
(all laugh) Mitch: I love that song so much.

And where do you see yourself going forward now, it terms of the covers vs original stuff?
Mitch: More towards the originals. We'll still do covers, for sure, because we enjoy doing them, but it's more about us now.
Scott: It is. It's something we've wanted for a really long time. And it feels really good.
Given the band are all music connoisseurs and have covered so many songs together, we asked them how to make the perfect playlist. You can't go wrong with these tips.
Experience:
Mitch: I make mixtapes all the time. I did it more when I was a teenager and I was moody (laughs) and I had different playlists for my different moods. I have a winter playlist, I have favourites of the year, empowering pump-up playlist.
Scott: He makes me them all the time.
Mitch: Yeah, just songs I think he would really like.
Scott: It's usually really pumped-up electronica, usually. Crazy tracks, RnB, fusion electronica.

Popular bangers or obscure music?
Scott: I think both. Popular bangers are important…
Kirstin: ...I feel like Mitch has a lot of obscure music. I'm always like, 'Show me!'
Mitch: Yeah, it's fun to get people into different musicians and open their minds a bit more.
Are you allowed to repeat artists?
Scott: Oh yeah! Absolutely! The Spotify playlist that we did for the fans, I think I put four Tori Kelly songs on it (laughs). It's actually just her entire album.
Tape, CD or Youtube?
Kevin: I think Spotify now, just because it's so accessible. Everybody can see it, everybody can relate to it.
Scott: Have you ever heard anybody use the word 'tape'? It reminds me of when I was doing karaoke when I was 6! But it's very nostalgic.
Kirstin: I love CDs, they're really special, especially when I was driving for long trips. Mitch used to decorate them a lot, he asked me out on one once! (laughs)
Scott: Oh wow!
Kirstin: It's just special, y'know, throwing on a CD on during a long drive and be thinking about whoever made you the mixtape, and the feelings that they brought to you.
How many songs should be on the idea mixtape?
Mitch: I like the long ones because I don't like to run out of songs. I like them to repeat. Like, 17.
Kirstin: Yeah, 15-20.
We got the band to pick one song each for your next party playlist, here's what they choose:
1) Bell Biv DeVoe - "Poison"
Kevin: "I really love "Poison". I went to a Justin Timberlake concert and I met him afterwards and I asked him, why is your show amazing from start to finish? And he said, for a show, you should structure it like a party. And that's why he did Poison. So now I associate the song with that (parties). It's just a hit!"
2) Zhu - "Faded"
Kirstin: "I really love it. They just just came with a new song too but I really like "Faded".
3) Gyptian - "Huld Ya"
Avi: "It's so good. It's a dancehall track that's perfect for parties."
4) Sophie - "Lemonade"
Mitch: "I always play this song. He's amazing."
5) Teedra Moses - "Be Your Girl (Kaytranada edition)"
Scott: "This song is like so fun a party, it's always a hit."
Thanks Pentatonix! You can buy their self-titled debut album now.