Sabrina Carpenter forced to cancel tour show after bomb threat
12 April 2023, 14:37 | Updated: 12 April 2023, 17:40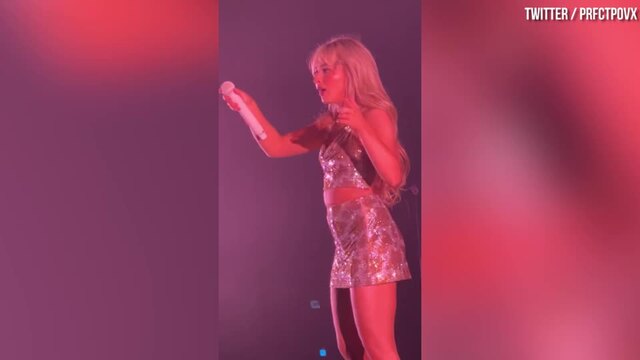 Sabrina Carpenter denies Joshua Basset rumour
Sabrina Carpenter has revealed that she is doing her best to reschedule the Portland show for a later date.
Sabrina Carpenter was forced to cancel a tour show in Portland minutes before taking to the stage following a bomb threat.
Last year, Sabrina Carpenter announced the second North American leg of her critically-acclaimed Emails I Can't Send Tour. The new dates included a show in Portland, Oregon. The gig was originally due to take place at Crystal Ballroom. However, it was upgraded to the larger Keller Auditorium to accommodate fan demand. The concert was scheduled for April 10th.
On Monday, Sabrina cancelled the concert and now Rolling Stone has reported that the decision came after a bomb threat.
READ MORE: Taylor Swift and Sabrina Carpenter's height difference sends fans into meltdown at the AMAs
According to Rolling Stone, the threat came via an anonymous telephone call to Crystal Ballroom, where Sabrina was meant to perform before changing venues. As a safety precaution, Sabrina and her team decided to cancel the show for the safety of her fans. Sabrina's opening act Spill Tab had already performed and fans waited for an hour for her to take to the stage.
Following the cancellation, Sabrina posted a note to her Instagram stories and Twitter. She said: "Portland — I can't tell you how much it breaks my heart; this is the last thing I wanted to do, but due to unforeseen circumstances, we will not be able to perform tonight. You will be refunded." She then added: "We are doing are best to reschedule at a later date."
Sabrina didn't address the bomb threat directly, but she did say: "The venue is closed for the evening. Please take care of yourselves and return home safely! I am so sorry. I love you very much."
Rolling Stone reported that a venue staff member announced to attendees that Sabrina would not be performing moments before she was scheduled to perform. Concertgoers were then asked to go home and were not told the reason for the cancellation, presumably so that people wouldn't panic as they exited the venue. 
The event promoter, AEG Presents, told Rolling Stone: "While the threat was not directed at Keller Auditorium specifically, Sabrina and event organizers agreed that out of an abundance of caution, the show will be called off".
Read more Sabrina Carpenter stories here:
Sabrina Carpenter vs. 'The Most Impossible Sabrina Carpenter Quiz' | PopBuzz Meets