Read the English translation of Shakira's emotional Acróstico lyrics
12 May 2023, 12:23 | Updated: 15 May 2023, 17:26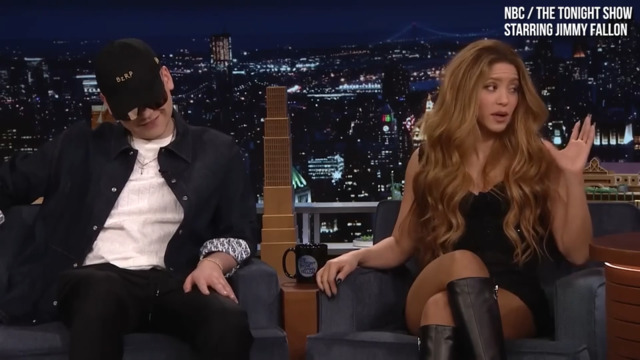 Shakira reveals her son Milan made her collab with Bizarrap
Are Shakira's Acróstico lyrics about Gerard Piqué? The meaning behind the song explained.
Shakira is back with a moving new ballad but what do her 'Acróstico' lyrics mean and are they about her ex Gerard Piqué?
Over the course of the past year, Shakira has released hit after hit after hit. From 'Te Felicito' to 'TQG', Shakira is truly in her bag right now. Not to mention, her Bizarapp collab 'Shakira: Bzrp Music Sessions, Vol. 53' has taken on a life of its own. In the song, Shakira drags her cheating ex Gerard Piqué and the lyrics have resonated with listeners all around the world.
READ MORE: Read the English translation of Shakira's savage Bizarrap lyrics in which she drags Gerard Piqué
Now, Shakira has released a new song called 'Acróstico'. What do the lyrics mean though? Here's the English translation.
What does 'Acróstico' mean?
'Acróstico' means 'acrostic' which is another word for a poem. The song is an emotional ballad in which Shakira sings about how her sons are the true loves of her life and how they have helped her move on from the heartbreak she experienced after Piqué cheated on her. The first letter of each Spanish lyric in both verses spell out her son's names: Milan and Sasha.
In the first verse, Shakira sings: "You taught me that love is not a scam, and that when it's real it doesn't end / I tried to stop you from seeing me cry, I didn't want you to see my fragility." She then explains that she will always be there for her sons: "And even though life treated me like this / I will be strong just for you".
In the chorus, Shakira adds: "Loving you cures my pain / It makes me feel better / I'm here for whatever you need / You came to complete what I am."
Shakira - Acróstico (Official Video)
In the second verse, Shakira references her split from Piqué. She sings: "Although I don't know how to turn the other cheek / Learning to forgive is wise." Giving further advice to her sons, she adds: "If things are damaged, don't throw them away, repair them / Face your problems head on / You have to laugh at life / Even though the wounds hurt".
No. I'm not crying. You are.
Shakira - 'Acróstico' lyrics: English translation
VERSE 1
You taught me that love is not a scam, and that when it's real it doesn't end
I tried to stop you from seeing me cry, I didn't want you to see my fragility
But things are not always as we dream
Sometimes we run, but we don't know where we're going
Never doubt that I will be here
Talk to me and I'll listen to you
PRE-CHORUS
And even though life treated me like this
I will be strong just for you
CHORUS
All I want is your happiness
And to be with you
Your smile is my weakness
Loving you cures my pain
It makes me feel better
I'm here for whatever you need
You came to complete what I am
VERSE 2
Although I don't know how to turn the other cheek
Learning to forgive is wise, only love comes out of those lips
If things are damaged, don't throw them away, repair them
Face your problems head on
You have to laugh at life
Even though the wounds hurt
PRE-CHORUS
You have to give people your whole heart
Even if they hurt you for no reason
CHORUS
All I want is your happiness
And to be with you
Your smile is my weakness
Loving you cures my pain
It makes me feel better
I'm here for whatever you need
You came to complete what I am
OUTRO
You cure my pain
You make me feel better
I'm here for whatever you need
You came to complete what I am
Mae Muller & Sam Ryder vs. 'The Most Impossible Eurovision Quiz' | PopBuzz Meets