Sia's Emotional New Video Appears To Have A Really Heartbreaking Hidden Meaning
7 September 2016, 13:24 | Updated: 8 May 2017, 17:09
Is the music video for "The Greatest" is a tribute to the tragic Orlando shootings?
If you haven't already heard, Queen of songwriting Sia just dropped a brand new track with Kendrick Lamar called "The Greatest". It's amazing - you need to hear it. She also dropped an accompanying video for the track featuring the incredible Maddie Ziegler.
The video features Maddie doing her thing, in that blunt black wig, dancing with a bunch of other insanely talented kids. But on closer inspection, it looks like the video carries a much MUCH deeper meaning. It's actually a tribute to the 49 innocent victims of the recent Pulse Nightclub shootings in Orlando.
The video opens with the words #WeAreYourChildren in white writing on a black screen. Maddie appears, wiping her face as her fingers smear the colours of a rainbow on her cheeks. She then dances through the corridors of still bodies and breaks through cages encouraging each one to life.
The video culminates in a massive dance routine in a dimly lit room. As the music slows down, the children fall to the floor as light shines into the dark room via bullet holes that have been revealed in the back wall. Maddie rises from the pile with the glow of disco lights on her face. The video ends with her crying, rainbow paint still on her cheeks.
If you managed to count, there are 49 dancers featured in the video - the same amount of victims from the Pulse shooting. 49 dancers for 49 victims.
While Sia or the video's director haven't explicitly spoken about the message of the video, a few of the dancers in the video have taken to Instagram to share their experiences filming the video as well as tributes to the lives lost in the tragic event.
Caption: "Humbled to be a part of this video. Thank you @siathisisacting. 49 beautiful lives lost. This is for you. RAINBOW #WeAreYourChildren"

Caption: "So extremely honored and blessed to be apart of Sia's new music video for "The Greatest". Being part of something so moving and with such a great message is an experience I will never forget...Thank you to my agent @kathrynelisee @cleartalentgroup, amazing choreographer @sirheffington, directer @danielaskill and especially @siathisisacting for creating something so meaningful!!!"

Twitter users have also been sharing their thoughts about the potential message of the video using the hashtag featured at the beginning of the video.
49 young dancers representing the 49 people lost at Orlando. #WeAreYourChildren https://t.co/eOAtJYVT00

— Nic Holas (@nicheholas) September 6, 2016
49 beautiful lives lost. #TheGreatest #WeAreYourChildren pic.twitter.com/fAgyPJv0h3

— Sophie (@KalaniH_2000) September 7, 2016
The ending of this video is so emotional #weareyourchildren pic.twitter.com/5nb9tmmJaB

— sia furler photos (@SiaFurlerPhoto) September 6, 2016
Another amazing song from Sia, another incredible performance from Maddie and another incredibly moving tribute to the 49 lives lost in Orlando.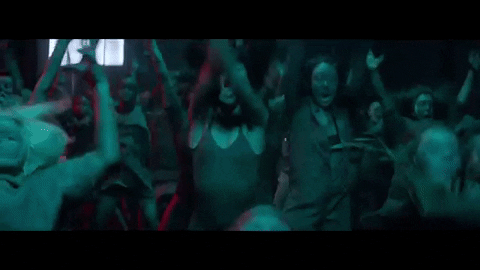 via giphy.com