Slam Dunk Festival 2018: Line Up, Tickets, Set Times And Everything You Need To Know
13 March 2018, 15:12
The pop punk festival is back and even bigger than ever and we've got all the details here.
Slam Dunk, the UK's number 1 festival of all things pop punk, emo, ska and all round good times, is back for 2018 and we are pretty damn excited.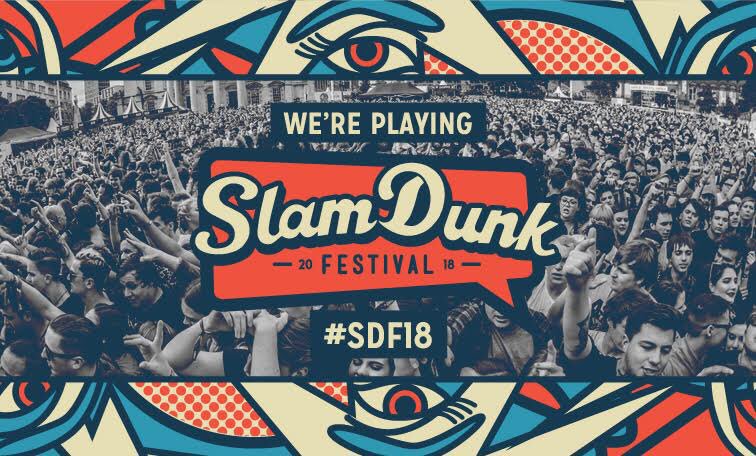 With previous years featuring the likes of Panic! At The Disco, Fall Out Boy, Yellowcard, Frank Iero, You Me At Six and many more, this really is the one event you need to attend if you are a true scene kid through and through. Plus, the South leg has expanded to Hatfield Park, meaning even more fans can enjoy the bank holiday weekend in the mosh pit.
So, here's all the details so far about what's going down at Slam Dunk 2018.
When and Where is Slam Dunk Festival 2018?
SLAM DUNK FESTIVAL NORTH - SATURDAY 26TH MAY - LEEDS CITY CENTRE
SLAM DUNK FESTIVAL SOUTH - SUNDAY 27TH MAY - HATFIELD PARK
SLAM DUNK FESTIVAL MIDLANDS - BANK HOLIDAY MONDAY 28TH MAY - BIRMINGHAM NEC
Who is performing at Slam Dunk Festival 2017?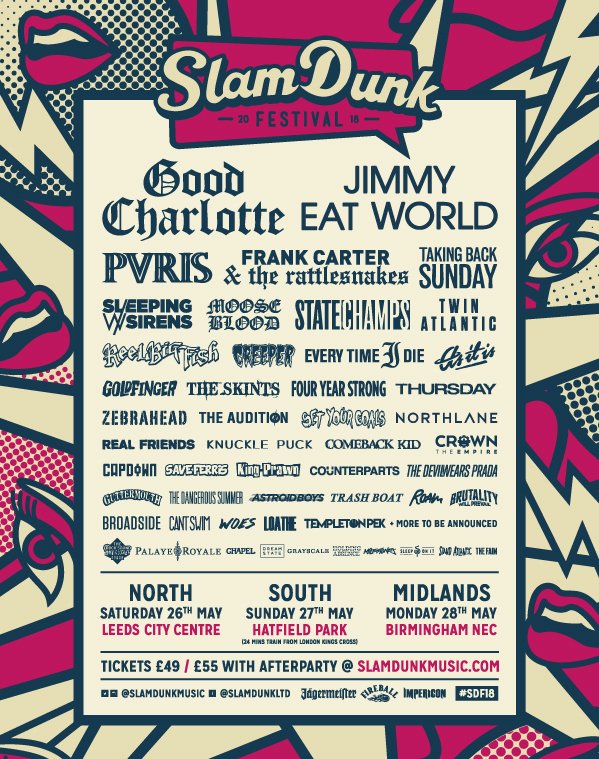 The first names for the festival have been revealed and they are:
JIMMY EAT WORLD
GOOD CHARLOTTE
PVRIS
FRANK CARTER & THE RATTLESNAKES
TAKING BACK SUNDAY
SLEEPING WITH SIRENS
STATE CHAMPS
THURSDAY
CREEPER
EVERY TIME I DIE
FOUR YEAR STRONG
REAL FRIENDS
KNUCKLE PUCK
CROWN THE EMPIRE
TRASH BOAT
THE SKINTS
ZEBRAHEAD
SET YOUR GOALS
NORTHLANE
COMEBACK KID
COUNTERPARTS
CAPDOWN
SAVE FERRIS
BROADSIDE
CAN'T SWIN
TWIN ATLANTIC
REEL BIG FISH
GOLDFINGER
THE AUDITION
ROAM
HOLDING ABSENCE
GRAYSCALE
THE FAIM
DREAM STATE
CHAPEL
MILESTONES
STAND ATLANTIC
SLEEP ON IT
PALAYE ROYALE
AS IT IS
MOOSE BLOOD
THE DANGEROUS SUMMER
WOES
KING PRAWN
GUTTERMOUTH
TEMPLETON PEK
ASTROID BOYS
BRUTALITY WILL PREVAIL
THE DEVIL WEARS PRADA
LOATHE
There will be a total of over 60 acts across 8 stages.
How much are tickets to Slam Dunk Festival 2017?
Tickets cost £49 (or £55 including the afterparty) and are on sale from 9am, Friday 17th November from http://slamdunkmusic.com/.
Also, for the first time this year, you can pay through an installment scheme. Customers will be able to reserve their ticket for a small cost and pay the rest in installments up to the event.
We'll keep updating this page right up to the event to keep you up to date on all things Slam Dunk. See you in May everybody!