Spotify's Get Ready With Music: How to find your Outfit Playlist
23 September 2022, 12:03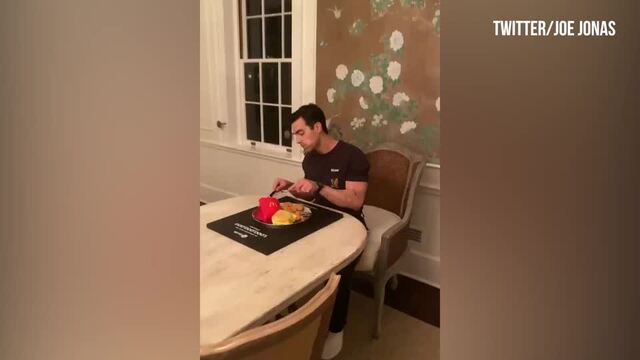 Joe Jonas eats McDonald's off of Spotify plaque
Here's how and where to find your Outfit Playlist, and your Music Closet in Spotify's new GetReadyWithMusic feature.
It is a known fact that the two most stressful parts of getting ready to go on a night out are: 1) Choosing the perfect outfit, and 2) choosing the perfect pre-game playlist.
Now, Spotify have created a brand new feature that will create an entire, personalised playlist for you based on your outfit.
And it's not just for when you're going Out Out either... Spotify users can use the GetReadyWithMusic feature to create playlists for their gym workouts, their relaxing mornings and nights at home, and motivational playlists for when you just need to get shit done. The feature also lets you store all those playlists in your Music Closet so you can revisit them whenever you want to.
So, where can you find the feature and how can you create the playlists? Find all the info below!
How to get Spotify's GetReadyWithMusic feature
How to find Spotify's GetReadyWithMusic feature
Ok, in order to find the actual feature, you'll need to open your Spotify app on your phone, and it should appear as a pop up.
If not, you can click here on your mobile device and it will take you to the app and straight to the feature. (The feature does not work on desktop, btw. You'll definitely need your phone for this one!)
Of course, you'll also have to make sure your Spotify app is completely up to date as well for the feature to work!
How to get your outfit playlist on Spotify's GetReadyWithMusic
Once you've got the feature, you'll be asked a series of questions about your vibe.
1) Pick what kind of event or task you're planning on doing: Going out? Taking it easy? Getting stuff done? Breaking a sweat? Up for whatever?
2) Then, you pick a mix of three colours. These can represent the colours in your outfit as well as your mood.
3) After that, you pick the vibe. Are you serving shiny, fuzzy, cosy, smooth, wavy, bubbly or crisp?
4) Enter your name and upload a picture of your outfit (you can skip the photo part if you want to!)
5) The app will then round up all the info you've given, and create a playlist based off what you're doing, what you're wearing and how you're feeling.
How to find the 'Music Closet' in Spotify's GetReadyWithMusic feature
You can also use the feature multiple times to create a playlist for each of the options you're present to at the start.
They'll all be stored in your 'Music Closet', which can be accessed through the small button with three stacked squares on the bottom right of the share page.
Read more Spotify news here:
Rina Sawayama Reacts To "Industry Plant" Rumour and Paints A Self-Portrait | PopBuzz Meets