Tegan and Sara Return With Two New Bangers To Take Over The World…Again
8 April 2016, 15:55 | Updated: 8 May 2017, 17:09
The best things come in twos.
This day has been a long time coming but now the rain has finally fallen. Let Tegan and Sara's music pour down upon my parched, saharan soul. #blessed.
Yep, Tegan and Sara released not ONE but TWO hot tracks on our asses today, "Boyfriend" and "U Turn". Bless the gods for they have giveth! Listen to the tracks below.


"Boyfriend"
"U-Turn"
For those out of the loop, Tegan and Sara are twin-sisters who've been making music for many years now. Originally they had a cult following as an indie-pop duo. Things changed considerably on their breakthrough album Heartthrob (2013) when they went full blown, technicolour pop. It earned them a huge new following, including a certain Taylor Swift who asked the sisters to join them on her tour.
Tegan and Sara will be releasing their new album Love You To Death on June 3. We can't wait!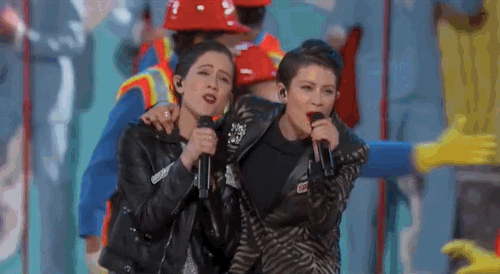 giphy.com