Watch Adele Literally Take It To Church And Prepare For A Religious Experience
17 November 2015, 08:52 | Updated: 8 May 2017, 17:09
Are you ready for Adeleageddon?
"Hello, it's me." Three words that basically saved the music industry in 2015 and saw the return of music behemoth and overall superstar Adele.
And with that the singer announced her new album, 25, due out this Friday (20 November).
Not one for drawn out promo campaigns and masses of 'instant grats, the singer has chosen a select few publications for interviews and agreed to two television specials.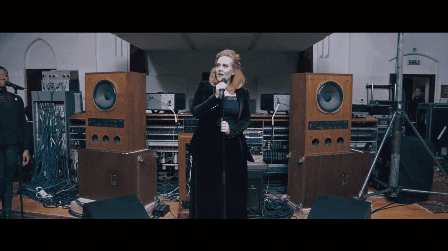 Luckily the North London born singer has gifted us with a performance of her next single "When We Were Young" on her Vevo channel and we are not worthy.
Co-written by indie darling Tobias Jesso Jr., the song is a soaring power ballad (obvs) and is totes emoshe. Vocally, Adele takes it to church, also quite literally as the performance took place in a church. That vocal at 4:30 *shivers and cries for 10 years*.
While we're not quite ready for Adeleageddon when 25 launches, this is a real nice warm-up.
Prepare for a religious experience and watch Adele's miraculous performance of "When We Were Young" below.