UPDATE: The Band Who Sold Their Sex Tape Just F*cked Up In A BIG Way
11 May 2016, 14:37 | Updated: 8 May 2017, 17:09
Fans and famous faces speak out against Yacht and their incredibly misjudged publicity stunt.
This story just gets weirder and weirder. And now, it's taken a really horrible turn.
So, once again, this is Yacht.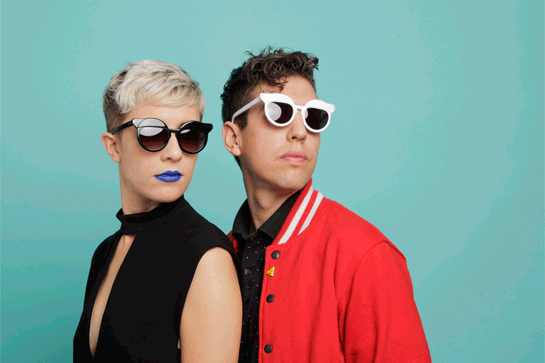 Refinery29
You may remember that they recently claimed they had a sex tape stolen in a heartfelt message on Facebook. They then decided to sell the tape through their own website in order to take control of the situation.
They received many messages of support from their fans, horrified that they could be victims of such a cruel violation of their privacy.
Well save your tears Yacht fans because it turns out it was all a hoax designed to plug their new single. Not cool guys.
Unsurprisingly, a great deal of people are angry at how this situation has turned out.
Playing the victim + exploiting your fans as a PR stunt isn't some bold, cutting edge shit- it's just a real shitty asshole thing to do.

— Best Coast (@BestCoast) May 10, 2016
Even the band's PR firm have distanced themselves from the group.
It's time to state this.
We are not involved in the Yacht situation in any way the idea was devised and executed 100% without us.

— Motormouthmedia Judy (@motormouthmedia) May 10, 2016
The band themselves attempted to backtrack with a further statement regarding the backlash.
Frankly, it's disturbing to us that press outlets could make the incredibly irresponsible leap from 'celebrity sex tape,' which is the cultural trope this project explicitly references, to 'revenge porn,' which is unfunny, disgusting, morally repugnant, and completely unrelated.

Yacht
Is it "completely unrelated" though guys? Lets take a look at your original post shall we...
Today, without our previous knowledge nor consent, a personal video was released...due to a series of technological missteps and one morally abject person, a video that we made privately has been released to the public...We assumed that we were the only people who would be privy to that video. I guess we were naive. Now you have the option to be privy to that video. For us, that's a shame. We feel like art is an act of generosity. The art we make for the public is for that expressed purpose. And now we're in an awkward situation where the art that we made for us and us alone is being viewed by anyone who has the inclination to hit play — a true and humiliating blurring of the public and private...Just because we are public figures does not mean we asked for this. Like anyone, we still deserve to have a choice about what we share with the world. Today we no longer have that choice.

Yacht
The wording sounds a lot similar to many revenge porn cases that members of the public have to suffer through, often without a hope of prosecution against the abusive people involved. Countless new cases are reported every week and the lives of the victims are often destroyed as their private lives are spilled across the web and they have no way to control who sees it.
And now an indie band, in order to plug a single with a provocative title (which we won't post here because why let the promo work?), the video for which they have uploaded to PornHub (again, no links), have used cases like this to their financial gain. Even worse, they are seemingly unable, or unwilling, to accept the fact that they are SO CLEARLY in the wrong.
The intention may have been to present an artistic exploration of the media and its attitudes towards sex. But the final product is just really sh*tty behaviour by two people with a limited understanding of the damage trivialising cases like this does to the real victims.
Let us know your own thoughts below.