17 Aussie Bangers To Throw On The Barbie This "Australia Day"
26 January 2017, 12:32 | Updated: 8 May 2017, 17:09
From 5SOS to Kylie, here are the essential songs you should play today in celebration of all things Aussie.
Today (January 26th) marks Australia Day, our Antipodean cousins national celebration. So, what better time to crack open a few brewski's, dig out the sun tan lotion and throw a few banging tunes on the barbie?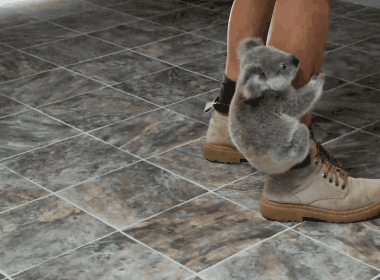 Reddit
And, luckily, we've picked out 17 of the finest tunes by our favourite Aussie performers for you to spin all day long, no matter where you are from.
So, in tribute to Harold Bishop himself, let's get cracking eh Sheilas?
1) 5 Seconds Of Summer - 'Girls Talk Boys'
Busting ghosts is obviously a year-round activity but make sure you take extra time to capture some demons in honour of the boys on their national day. Dance moves in costume are very much encouraged.
2) Jet - 'Are You Gonna Be My Girl?'
The soundtrack to everybody's 2003, the bass intro alone is enough to make anybody strap on the nearest air guitar and get strumming. (Side note - one guy at my school used to run around the playground and sing "'Cos you look so fine that I really wanna pull your tie" before yanking on your tie, turning it into a small tight knot that all the teachers would shout at you for later. So, yeah, this brought back some painful memories too).
3) Men At Work - 'Down Under'
This song has to appear in any playlist based around an Aussie theme. It is the law. The same applies to Scottish content and '500 Miles' by The Proclaimers.
4) The Vines - 'Get Free'
That debut album is still the grunge revival we never knew we needed and, on the rare occasion this drops in the indie club, it can still start a moshpit that will tear the entire roof off the joint!
5) Empire Of The Sun - 'Walking On A Dream'
Makes you want to run into the desert and slap on some neon makeup and a piece of ridiculous headgear for a Mad Max-style rave up. 'We Are The People' would also be a more than acceptable choice.
6) Nick Cave & The Bad Seeds - 'There She Goes My Beautiful World'
A genuine musical legend, this gospel-tinged bundle of joy is a guaranteed party starter. Plus, if you play it loud enough, maybe this selfie-taker will finally know who he is.
7) The Veronicas - 'Untouched'
The pop duo, and former PopBuzz Podcast guests, have delighted audiences for years now. But, while we love the new album, it's this classic that we will be turning up to 11 on the office stereo all day.
8) The Avalanches - 'Frontier Psychiatrist'
Possibly the weirdest sounding single ever released, see how many of the crazy voices you can imitate from memory after your first listen. We managed four. Plus the horse noise.
9) AC/DC - 'You Shook Me All Night Long'
As much as we'd really love to include the VH1 Divas cover version featuring Celine Dion and Anastacia, today is about our Antipodean friends so the original will have to suffice.
10) Betty Who - 'Human Touch'
Fast becoming on of the hottest acts of 2017, Betty has already landed a duet with her buddy Troye Sivan and this certified banger has been getting frequent airtime on PopBuzz Radio. One to watch.
11) Savage Garden - 'Truly, Madly, Deeply'
We will only play this in the following two situations - standing next to you on a mountain or bathing with you in the sea. Make your choice.
12) Kylie Minogue - 'Better The Devil You Know'
Let's be honest, we could have filled the entire list with nothing but Kylie brilliance. Picking just one track was like choosing between our well-crafted disco children. But, if we can only have a single song, let's kick it old school with this little ripper!
13) INXS - 'Need You Tonight'
Let's make this clear - No INXS, No The 1975. It really is that simple.
14) Tonight Alive - 'Drive'
They may have moved away from their pop punk roots but Jenna and co are still more than capable of providing a big anthem ready for a festival singalong. This is one of those.
15) Flume - 'Never Be Like You'
Another new(ish) performer set to be HUGE over the next couple of years, Flume has been slowly building a following in the UK that looks ready to explode as new music and live dates emerge from down under.
16) Sia - 'The Greatest'
'Cheap Thrills' would also be more than acceptable here. Anything with Sean Paul is always fun isn't it?
17) Troye Sivan - 'Youth'
Of course. In fact, let's just finish this off with the entire Blue Neighbourhood album. You know you want to.
Got any more fave Aussie bangers we've missed out? Let us know below.
___ ___ ___ ___ ___
From Brendon Urie to The Vamps, here are the best bits from the #PopBuzzPodcast in 2016. Listen right here or subscribe for free on iTunes to get new episodes sent straight to your phone every Wednesday.