7 Halloween Songs You've Had On Repeat ALL. YEAR. LONG!
31 August 2016, 15:11 | Updated: 8 May 2017, 17:09
The perfect soundtrack to carve a summer pumpkin to.
Summer is ending, the leaves are starting to slowly change colour and we all know what that means - Halloween BABY!!!!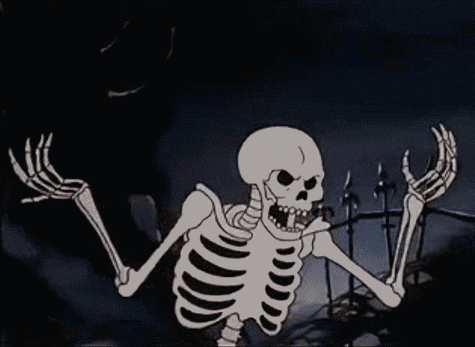 gifbay
But, as we also know, Halloween is more than just a day at the end of October - it's a state of mind. Just cause a card company says it's October 31st doesn't mean it isn't Halloween every damn night in our hearts, heads and Ipods.
So, with that in mind, we put together a little playlist of Halloween bangers that you can bop to all year round. Don't sweat what day of the year it is, just get spooky.
1) Panic! At The Disco - This Is Halloween
Because if we can buy a Jack Skellington t-shirt at Hot Topic all year round then why does it matter that it's still August?
2) Blink 182 - I Miss You
We'll have Halloween on Christmas. And Easter. And Flag Day.
3) My Chemical Romance - Vampires Will Never Hurt You
But non-reunion videos might hurt just a little bit...
4) Fall Out Boy - Ghostbusters
Or the original theme. Or the Walk The Moon version. Or the Pentatonix version. Lot of options basically.
5) Villains - Thrilla
We've all heard the original version a million times. Here's a sh*t hot electro house remix that will set the party off!
6) Marilyn Manson - Tainted Love
The finest gift Not Another Teen Movie ever gave the world.
7) Kanye West - Monster
Come thru Minaj!!! Make like Adele and get these lyrics learned people!
Got your own fave? Let us know below!