Leap Day Playlist: Bops You Can Only Bop To Once Every Four Years
29 February 2016, 10:33 | Updated: 8 May 2017, 17:09
Happy February 29th.
Today is everyone's favourite solar year-based celebration "Leap Day", the day where we party like it's still the middle of Winter and re-tell the legend of Leap Day William, the part-fish part-man famously portrayed by Jim Carrey in the holiday favourite Leap Dave Williams.
But how best to soundtrack all of those crazy "Leap Day" parties you've got lined up? Don't worry, we have put together the ultimate playlist of songs to mark the official Xmas of February (or the Easter of March depending on your outlook). Just remember - you can only listen to these once every four years!
1) "King For A Day" by Green Day.
Because cross-dressing is the best way to spend the last day of February.
2) "Jump Around" by House Of Pain.
Jumping is just less joyful leaping.
3) Anything by A Day To Remember.
Ok, ok you can listen to them for the rest of the year too.
4) "One Day Like This" by Elbow.
Make sure you shout the word "four" in the middle of the chorus.
5) "Today" by The Smashing Pumpkins.
Also good for tomorrow.
6) "Four Years" by The Story So Far.
Probably the most appropriate one here.
7) The theme from Quantam Leap.
Complete with full exposition dialogue.
8) Anything by Four Year Strong.
Again, you can probably play this year round.
9) "The Rainbow Connection" by Kermit The Frog.
Frogs leap - you get the connection!
Happy Leap Day Everyone!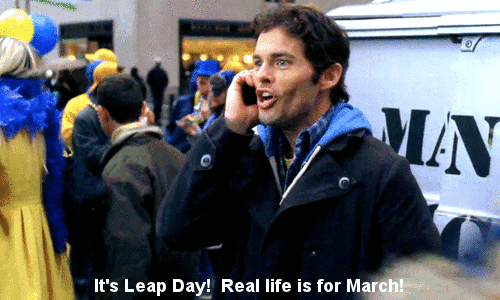 FECKYEAHJAMESMARSDEN.TUMBLR.COM