N.E.R.D.'s Video For "Squeeze Me" Is Cute And Fun And Super Weird
28 January 2015, 12:13 | Updated: 8 May 2017, 17:09
The N.E.R.D. guys get Squarepants'd in the quirky song for the Spongebob Movie soundtrack
Ready for the weirdest thing you're going to see today?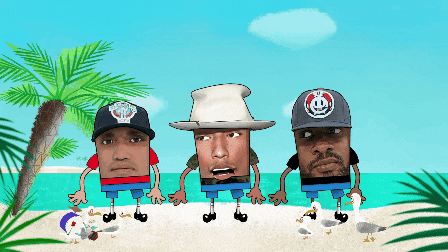 There you go.
In an animation that wouldn't look out of place on Weebl's Stuff, here we have N.E.R.D. showing us just how well a human's face DOESN'T fit on Spongebob Squarepants' body, while the real deal dances below them with his pal Patrick. Also there's a seagull band.
This is just one tiny bit of the trippy cute weirdness that is the trio's new video for their preppy new single "Squeeze Me", from the soundtrack of upcoming movie The Spongebob Movie: Sponge Out Of Water. The spongey incarnations of Pharrell, Chad and Shay get their weirdly-animated groove on down in Bikini Bottom, between snippets of footage from the movie. Also they go to space, because reasons.
We're just grateful they managed to squeeze THIS iconic Patrick face in there:
Check out the trippy video below.