Daniel Radcliffe says he says has a "weird little problem" with the word 'ally'
3 April 2023, 12:56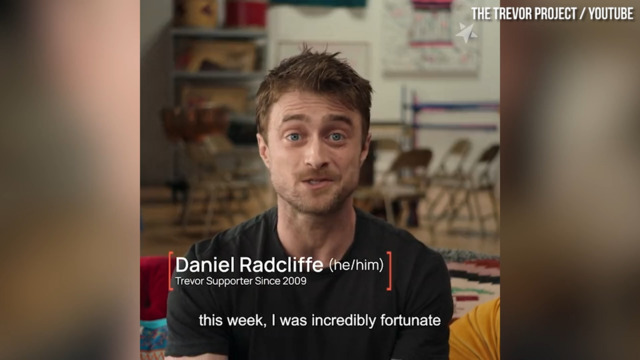 Daniel Radcliffe listens to trans youth in Sharing Space trailer
"Anytime you hear somebody self-refer to themself as an ally, I'm always like, 'I'm suspicious of you'."
Daniel Radcliffe has revealed that he's not a fan of the term "ally" in a new roundtable with trans and non-binary youth.
The 33-year-old took part in a roundtable discussion in the first instalment of the Trevor Project's Sharing Space, a series which will bring to light important conversations with young trans and non-binary people. In the roundtable, Daniel said that he is a little cautious of those who call themselves an ally.
"I said this to you all earlier, about my weird little problems with the word 'ally,' just because anytime you hear somebody self-refer to themself as an ally, I'm always like, 'I'm suspicious of you,'" the dad-to-be said. "But there is an original meaning to that word, and there [are] some people who embody that very powerfully."
READ MORE: Daniel Radcliffe would like to play Sirius Black or Remus Lupin in a Harry Potter reboot
In response, the six panelists agreed with Daniel's statement.
"I think on the flip side of allyism… we as people in this community, we have to often times accept that even with allies, we still have to communicate what makes us feel good and what are boundaries," commented Deity The Why. "Like, the first thing a person that calls themselves an ally thinks is that 'Because I believe in you and because I see you the way you want to be seen, I can't do anything else wrong."
Another panelist, Mateo-Luis, said that "sometimes it takes for someone to really step into what we would consider allyship, for someone to understand what it's like to live in your shoes."
Daniel has supported The Trevor Project for a long time, a nonprofit organisation that focuses on suicide prevention within the young LGBTQ community. In 2020, Daniel spoke out against Harry Potter author J.K. Rowling's transphobic comments.
"Transgender women are women," he said. "Any statement to the contrary erases the identity and dignity of transgender people and goes against all advice given by professional health care associations who have far more expertise on this subject matter than either Jo or I."
Sharing Space - Episode 1: Daniel Radcliffe
Daniel later reflected on his statement and said that it was very important for him to say something in response to JK Rowling's harmful remarks.
"The reason I felt very, very much as though I needed to say something when I did was because, particularly since finishing Potter, I've met so many queer and trans kids and young people who had a huge amount of identification with Potter on that," he told IndieWire in late 2022.
Daniel continued: "And so seeing them hurt on that day I was like, I wanted them to know that not everybody in the franchise felt that way. And that was really important. It was really important as I've worked with the Trevor Project for more than 10 years, and so I don't think I would've been able to look myself in the mirror had I not said anything."
He ended by saying, "But it's not mine to guess what's going on in someone else's head."
The Trevor Project will be releasing episodes of Sharing Space throughout the year, each with a different theme and LGBTQ panelists.
ATEEZ Spill Their Secrets In 'The Tower Of Truth' | PopBuzz Meets