Trump claimed it cost $70,000 to do his hair and people are losing it
28 September 2020, 14:37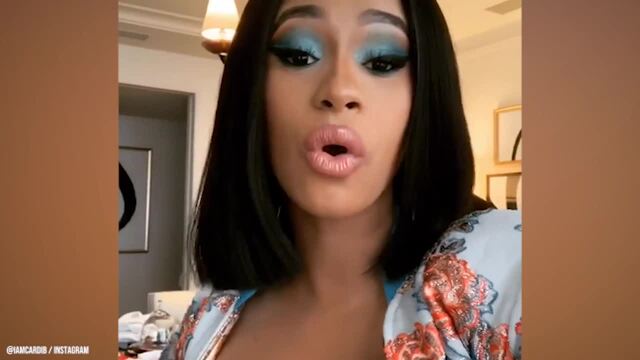 Cardi B takes down Trump in iconic Instagram video
It was revealed by the New York Times that President Donald Trump has been avoiding his taxes for 10-15 years. And how? Well, it involves some pretty expensive haircuts...
Donald Trump has found himself in hot water with the election coming up, as the New York Times published a report on his tax returns in the years leading up to him becoming president in 2016.
It was found that the year he was elected, he paid just $750 in taxes, and found some seriously unusual ways to avoid it for 10-15 years previous.
And, aside from declaring $1.4bn in business losses, the internet is once again wooing over his stupidity, as he attempted to claim $70,000 in expenses...for his haircuts.
READ MORE: Is Addison Rae a Republican? TikTok star responds to voter registration accusations
The bills were racked up when he was filming The Apprentice, and were an attempt to shrink his tax bill. Within hours of the report being published, the Joe Biden campaign store was already selling stickers that read: "I paid more income taxes than Donald Trump."
Naturally, Trump has denied the allegations claiming that "they've been under audit for some time" and "total fake news".
Unfortunately, that excuse doesn't stand up in the court of the internet, and Twitter is casting their own judgement on his seriously overpaid hairdresser...particularly as the infamous barnet has been under scrutiny since, well, the beginning of time.
According to his tax returns, Trump spends R23'000 a week to make his hair look the way it does. A WEEK.

— Rob AF. (@RobForbesDJ) September 28, 2020
I don't think he's getting his money's worth on the hair.

— David Jaros (@ProfDavidJaros) September 28, 2020
In case anyone has one long piece of hair that needs "styling"... I'll do it for WAY less than Trump charges. Bobby pins are like $3 + hairspray = $6.00

Bleach (without toner which is what he NEEDS) is like another $12.....just hit me up. It won't be $70,000K💯

— ☢️SnarkyAntifaNun☢️ (@WendyLeighS) September 28, 2020
He also filed a claim worth around $95,000 for Ivanka's hair and makeup.
Trump's $750 contribution to the economy is far less than what the average American family pays, with congresswoman Alexandria Ocasio-Cortez accusing him of paying less income tax "than waitresses & undocumented immigrants".
And the hair? Well, if Kylie Jenner paid a reasonable-in-comparison $8000 for *those* iconic 30-inch birthday extensions, you can see why people are struggling to buy this story.
It'll be interesting to see how he worms his way out of this one.