What is #EndSARS? Everything you should know about the protests in Nigeria
21 October 2020, 14:50 | Updated: 21 October 2020, 14:57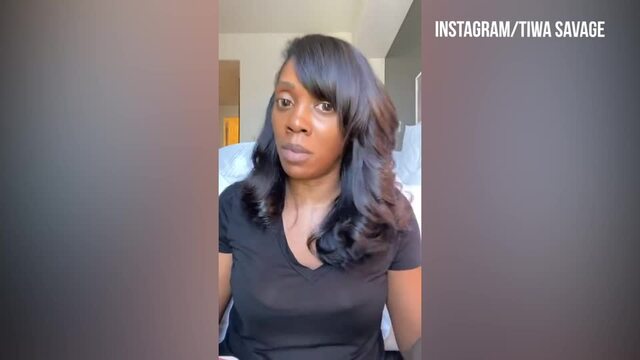 Tiwa Savage calls on Beyoncé, brands and other artists to support the #EndSARs movement
Everything you need to know about the #EndSARS movement and protests in Nigeria.
By now you've probably seen the heartbreaking #EndSARS hashtag that has been trending on social media, which is filled with people in Nigeria taking a stand against police brutality inflicted by SARS.
On Tuesday night (Oct 20), Nigerian security forces reportedly opened fire on peaceful protesters at the toll gate in the Lekki district of Lagos after a city-wide curfew was imposed, lights were dimmed and CCTV cameras were cut off just hours earlier. #LekkiMassacre trended on Twitter with the hashtag flooded with videos of protesters that had been seriously wounded. Amnesty International has confirmed there have been deaths but an official figure has not been released.
READ MORE: Here's how to support Black Lives Matter protesters in the US and UK
What is End SARS?
#EndSARS is a movement calling an end to police brutality in Nigeria at the hands of the Special Anti-Robbery Squad (SARS), a unit of the Nigerian Police Force with a history of abuse and unwarranted violence.
In 2017, Nigerian activist Segun Awosanya launched the #EndSARS campaign on Twitter alongside other young Nigerian activists in response to police brutality. But on 3 October 2020, the movement started trending after a distressing video of a SARS police officer shooting a young Nigerian went viral.
Further reports of young Nigerians being murdered by SARS in the days that followed caused the #EndSARS hashtag to start trending and by October 8 nationwide protests had begun. Peaceful protests were later held internationally in London, Dublin, New York, Canada and more.
On October 11, Nigeria's Inspector-General of Police Mohammed Adamu announced the "dissolution" of SARS. However, many didn't see the announcement as a victory because the government's plan was to reassign SARS officers to other police departments rather than give the victims justice and eliminate them from their positions. Similar pledges had also been made previously and, because of this, the protests continued.
PRESIDENTIAL DIRECTIVE: The Special Anti-Robbery Squad (SARS) of the Nigeria Police Force @PoliceNG has been dissolved WITH IMMEDIATE EFFECT.

The Inspector General of Police will communicate further developments in this regard.

— Presidency Nigeria (@NGRPresident) October 11, 2020
All officers and men of the now defunct Special Anti-Robbery Squad (SARS) are to be redeployed with immediate effect.

A new policing arrangement to address anticipated policing gaps the dissolution of SARS will cause is being worked on and will be announced by @PoliceNG.

— Presidency Nigeria (@NGRPresident) October 11, 2020
When did SARS start in Nigeria?
SARS was launched in 1992 to fight robberies, carjackings, kidnappings and other violent crimes. However, SARS have been accused of several human rights violations since its establishment. Many have reported illegal arrests and detentions, sexual harassment, murders and unjustified violence against young Nigerians for things as trivial as having dreadlocks, an iPhone or tattoos.
The campaign is now being recognised on social media internationally from celebrities like Beyoncé, Rihanna and Nicki Minaj.
Standing with & praying for the brave young people of Nigeria who are on the front lines of this senseless violence. Your voice is being heard. 🇳🇬 #EndSARS

— Mrs. Petty (@NICKIMINAJ) October 20, 2020
so now they are saying there is a curfew in Nigeria for the next 24-48 hours. the curfew was enforced AS PEOPLE ARE WERE PROTESTING. this sounds ODDLY familiar

— Naira Banks (@jackieaina) October 20, 2020
I hate feeling helpless all the time
I can sign a petition and I can donate to a cause and I can speak out but how do we actually create CHANGE #EndSARS

— Ambs (@AmberRoseGill) October 20, 2020
You turned away ALL Ambulances including Mine. YOU blood suckers.

— Burna Boy (@burnaboy) October 21, 2020
If you would like to support protesters in Nigeria, The Feminist Coalition are a group of young Nigerian feminists who are fighting for gender equality and working to provide food, water and aid on the ground at the protests. You can find details on how to donate (via Bitcoin only) here.