Gigi Hadid condemns "terrorising of innocent people" following Israel-Hamas war
11 October 2023, 15:56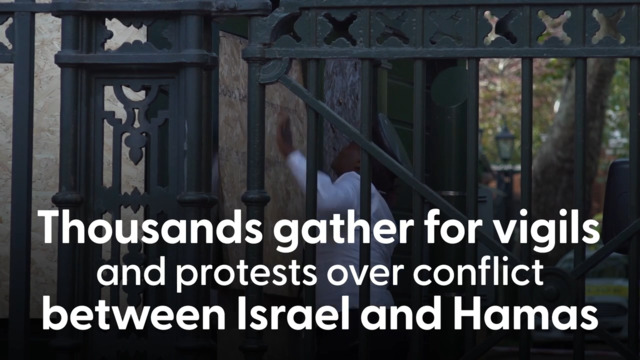 Thousands gather for vigils and protests over conflict between Israel and Hamas
Gigi Hadid has released a statement clarifying her position on Free Palestine and addressing the Israel-Hamas war.
Gigi Hadid has said "the terrorising of innocent people is not in alignment" with the Free Palestine movement in a statement.
Fans of Gigi Hadid will already know that both she and her sister Bella Hadid are half-Palestinian. Since rising to fame, both stars have often spoken up in support of Free Palestine and condemned the ongoing attacks against Palestinian people in Gaza and Israel at large. In 2018, Gigi clarified that she her stance was not "anti-anyone" and "only pro-coexistence."
Now, Gigi has released a statement following the the attack launched by Hamas militants on Israel on October 7th.
READ MORE: Gigi Hadid fights off YouTuber who invaded a Chanel runway show
Taking to Instagram yesterday (Oct 10), Gigi wrote: "My thoughts are with all those affected by the unjustifiable tragedy, and every day that innocent lives are taken by this conflict—too many of which are children."
"I have deep empathy for the Palestinian struggle and life under occupation, it's a struggle I hold daily," she continued. "I also feel a responsibility to my Jewish friends to make it clear, as I have before: While I have hopes and dreams for Palestinians, none of them include the harm of a Jewish person."
Gigi continued: "The terrorizing of innocent people is not in alignment with & does not do any good for the 'Free Palestine' movement. The idea that it does has fuelled a painful, decades-long cycle of back&forth retaliation."
Gigi added that "no innocent civilian, Palestinian or Israeli, deserves to be a casualty of this violence and being Pro-Palestine does not mean you are anti-semitic."
Gigi ended her post writing: "I know my words will never be enough or heal the deep wounds of so many, but I pray for the safety of innocent lives, always."
Kylie Minogue vs. 'The Most Impossible Kylie Quiz' | PopBuzz Meets