9 good news stories that happened this week
17 April 2020, 17:30
With the news looking bleaker than ever amid coronavirus, it's about time we looked at the heart-warming, positive and down-right funny stories that happened in the world this week. Because we all need a break, hey?
We're one month into lockdown, and if you've been watching the news this week, there's no shortage of coronavirus news stories, bringing the doom and gloom of the situation right into your front room.
With all the bleak news about, it's about time we looked at the heart-warming, positive and down-right funny stories that happened in the world this week. Because we all need a break, hey?
READ MORE: Why you need to stop shopping online during coronavirus lockdown
So, while we wait for the mayhem to die down, we've rounded up the top 10 happiest stories from the week - because who doesn't need a wholesome break during these trying times?
1. There was the biggest fall in CO2 emissions since WW2
Scientists have said we can expect a 5% reduction in carbon dioxide emissions this year, simply because of the lack of people currently leaving their homes, and using their cars - the biggest reduction since WW2. The 2008 financial crash only saw a 1.4% decrease, so this is pretty significant.
Climate scientists have already warned governments that emissions must start dropping by this year to avoid the impact of climate change getting any worse - so this is a glimmer of hope in what is an unusually dark time.
2. Captain Tom Moore raises £18 million for NHS
Whether you're doing the run 5 donate 5 challenge, downing a drink of choice, or simply supporting local neighbours, everyone is coming together with firm community spirit right now.
And one man in particular, Captain Tom Moore, who served in WW2, set out to raise £1,000 for the NHS to say thank you, by doing 100 laps of his garden in honour of his 100th birthday.
As he set out doing 10 laps a day in the lead up to his milestone celebration (his party was canceled because of social distancing), the public got wind of his JustGiving page - and have raised him a whopping £18million in donations, in a new record for the platform.
The Captain has been totally overwhelmed by the generosity that he will "keep walking while people are still donating", and there's even petitions going round online to get him a knighthood from the queen.
We totally back it.
3. John Krasinski Is Hosting A Live Prom On YouTube
It was only a week ago that A Quiet Place actor, John Krasinski used his new YouTube show to surprise a Hamilton fan with the entire Broadway cast singing to her for her birthday - and this week he's back again, to help out fans whose proms have been affected by the coronavirus.
Time to get your best dress on.
Krasinski is hosting the prom on his Some Good News YouTube channel on Friday at 8:00pm EST (1am BST if you're in the UK), and will be the resident DJ, but has said we can expect some surprise guests making an appearance. Some will be calling in virtually, but we have no doubt that wife Emily Blunt will be first on the dance floor. We can't wait.
SGN Prom with John Krasinski and Friends: Friday @ 8pm EST
4. ABC hosted Disney Family Singalong with our favourite artists and a High School Musical reunion
Disney fans, assemble! On Thursday, ABC live-streamed a Disney-themed concert with the likes of Ariana Grande and Demi Lovato, performing our favourite Disney tracks from their own living rooms.
There was even an exclusive High School Musical reunion, where we saw the original cast belt out 'We're All In This Together', complete with dance routine, and it is everything.
Other performers at Disney Family Singalong included Christina Aguilera (who released 'Reflection' from Mulan back in 1998), Luke Evans, Jordan Fisher, Josh Gad, Derek Hough, Julianne Hough, Carrie Ann Inaba, Little Big Town, Donny Osmond, Thomas Rhett, Amber Riley and John Stamos - as well as the cast of Broadway's Aladdin bringing the theatre to our homes for a musical extravaganza.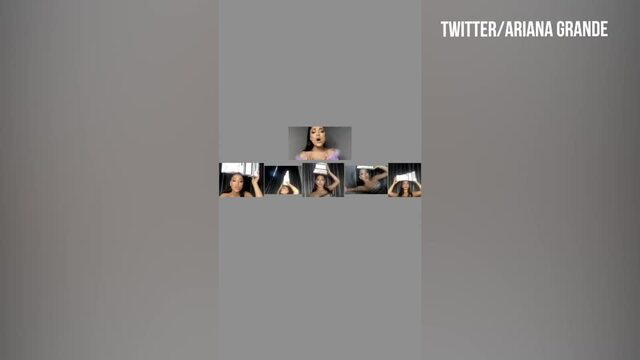 Ariana Grande covers Hercules 'Won't say i'm in love' for Disney Family Singalong
5. Rihanna gives $2million to domestic abuse victims in quarantine
In other unsurprising news, not only is Rihanna that b*tch, but she's also a pretty generous one too. This week, RiRi donated $2million (£1.67m) to help domestic abuse victims who are living in quarantine with their partners - on top of the $1.4million she's already spent on ventilators for hospitals, and $5million through her foundation to relief efforts.
We suppose we can forgive her for the lack-of a new album now.
6. A 106-year-old has beaten coronavirus in the UK
When we're bombarded with the number of deaths per day around coronavirus, we miss the stats about just how many people are surviving. And it's a lot. Not only that, but more vulnerable people are recovering, and this week, a 106-year-old woman even left hospital having survived the illness - the oldest so far.
Connie Titchen left Birmingham City Hospital after three weeks of treatment, and says the key to her recovery is the active lifestyle she leads - even though she only had a hip operation back in December. The pensioner loves to cycle, dance and play golf, as well as enjoy a McDonald's - but her grand children are too scared to tell her they're closed. First world problems, eh?
Congrats Connie!
7. You can do a virtual tour of Keukenhof's 7 million flowers that nobody got to visit in time for their blooming
The world's largest flower garden, Keukenhof in The Netherlands, plants seven million bulbs each year for visitors to enjoy when they bloom. Of course, given current circumstances, no one is able to enjoy their beauty in-person, so the park has set up a virtual tour, so you can browse the colourful flowers from the comfort of your own home.
The site covers 32 hectares and 800 varieties of tulips - so it'll keep you busy for a while.
You can browse at your leisure and mentally plan your next trip here.
8. A survey says 73% of British women now feel comfortable with the way they look thanks to lockdown
Ladies, can you believe it's taken a whole global pandemic to get us to love ourselves?
A month indoors makeup-free and far too much time on our hands has apparently worked wonders, because a survey has found that 73% of British women are now happy with what they see in the mirror.
In fact, more than 67% said they prefer a "natural look" on both themselves and other people, with more than half now braving supermarket trips and video calls with no makeup on.
Almost 40% of those surveyed by SkinProud who were under age 24 have felt less pressured to look a certain way while social distancing, and half would now be more than happy to share a bare-faced photo to social media.
Things we love to see: it.
9. Christ the Redeemer statue lit up as doctor in coronavirus tribute
On Easter Sunday, Rio de Janeiro's iconic Christ the Redeemer statue was for the first time lit up with the projection of a doctors outfit, to say thank you to the medical staff working on coronavirus.
Images of health workers asking people to stay at home and flags from different countries with the word 'Hope' were also projected for all to see - and it's stunning to say the least.
Take a look for yourself...
Not bad for a weeks work, right?