'Pokémon Go Fest' Was A Total F*cking Mess And Fans Are Angry
24 July 2017, 11:51 | Updated: 24 July 2017, 11:58
The Chicago event saw fans booing organisers after signal failures left the game unplayable.
Pokémon Go fans had a rough weekend as the first ever festival in celebration of the game descended into an utter sh*tshow.
Taking place in Chicago's Grant Park, the festival saw thousands of fans gather for the opportunity to catch rare monsters and collect special one-off bonus items. However, organisers clearly forgot one key detail - when thousands of people are in one place at one time, cell phone service tends to be kind of crappy.
In fact, service was so crappy that nobody at the 'Pokémon Go Fest' could actually play Pokémon Go.
Some unhappy campers at #PokemonGoFest -

Son got on with Verizon, can't login with AT&T :( pic.twitter.com/uJlc1rZ71W

— chip sineni (@chipsineni) July 22, 2017
Oh boy...
Niantic CEO John Hanke was booed when he tried to explain the problem on stage, while fans also complained of huge lines to even enter the park in the first place.
lol, people booing at Niantic CEO John Hanke on stage at Pokemon Go Fest because the game is unplayable for many attendees pic.twitter.com/QFZQTiMRxr

— Wario64 (@Wario64) July 22, 2017
Early entry line for Pokemon Go Fest starts at Jackson/Columbus, wraps around block to LSD. #PokemonGOFest pic.twitter.com/khZFiGCvrC

— John O'Neill (@jrichardoneill) July 22, 2017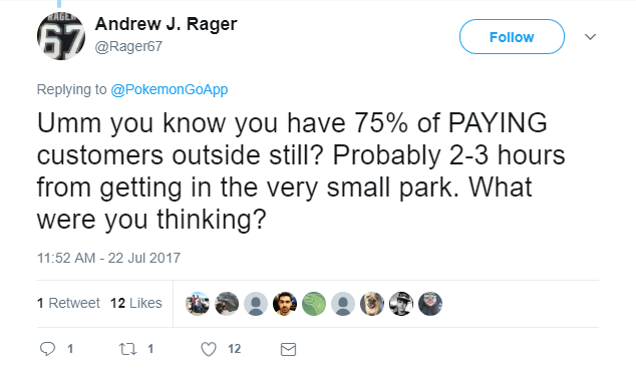 Twitter
Pretty rough stuff.
But, perhaps most embarassing of all was when the crowd began chanting 'We Can't Play' en masse while speakers appeared on the park's main stage.
Chanting 'WE CAN'T PLAY!' #PoKemonGoFest pic.twitter.com/NBGjhINfc4

— Maria MsDBZbabe (@MsDBZbabe) July 22, 2017
Savage. You literally had one job guys. What is this, Fyre Festival?
Niantic were reportedly soon forced to offer all attendees a full refund plus $100 of Pokécoins although we are stilll awaiting official confimation on this. The company were also said to be expanding the area that the rare monsters were available in order to ease traffic in the actual park and hopefully reduce the size of the lines.
Check out some of the chaos for yourself by replaying the event's YouTube livestream here.
Didn't attend but I imagine this is what Pokemon Go Fest was like. pic.twitter.com/OMvjSkgvPG

— Keith (´・ω・`) (@Sagemaster15) July 23, 2017
____ ____ ____ ____ ____
Listen to the special Game Of Thrones edition of the #PopBuzzPodcast right here or subscribe for free on iTunes to get new episodes sent straight to your phone every Friday.