Sophie Turner Made A "Coming Out" Joke And Now The Internet Is P*ssed
22 February 2017, 14:58 | Updated: 8 May 2017, 17:09
Ohhhhhh dear...
Sophie Turner, Bae of Westeros, Bae in the North and Bae of the Seven Kingdoms, has just found herself in a spot of bother after posting a joke on her Instagram about sexual orientation that a few fans seem to have found pretty insensitive.
The Game Of Thrones actress posted a stock image of a woman with a massive silver pot on her head accompanied by a delightfully punny comment. The comment read: "I've been having PANsexual thoughts recently... also I'm a POThead #confessiontime"
DID SOPHIE TURNER JUST COME OUT AS PANSEXUAL OR pic.twitter.com/1HSKn8kbIc

— ㅤzahra (@starksemilia) February 19, 2017
If you're unsure about what pansexual means, it's when you're sexually or emotionally attracted to others regardless of their sexual orientation, biological gender or gender identification.
People were quick to send their support to Sophie after believing that this was her coming out post.
sophie turner just came out as pansexual by using a pun, how can you not love this woman??

— rhíonna (@valardohaerhi) February 19, 2017
Did sophie turner just come out on ig by making a pun

— logan (@poedamercn) February 19, 2017
hahaha did Sophie turner just come out using a pun, absolute bawlin

— bite me (@cozzameatsix) February 19, 2017
did sophie turner just come out as pansexual? i might be crying

— marti (@blackeyedmarti) February 19, 2017
With people catching the wrong end of the stick, Sophie then responded with an apology, stating that her original Instagram post was "merely a pun."
First Tyler Posey, now Sophie Turner. Y'all... pic.twitter.com/Zk5nCSjsWU

— starkiller (@juliansbashir) February 19, 2017
And now she's being PUN-ISHED (...sorry) by Twitter for being insensitive about the importance and magnitude of coming out for others.
did sophie turner really just fake come out and then thanked her fans for supporting her fake coming out???? pic.twitter.com/JIAYaqO6A2

— han (@ADAMNPARRlSH) February 19, 2017
can sophie turner not talk about 'progress' relating to lgbt issues when she is a cishet who joked about coming out to a large audience?

— ceri (@yikesclub) February 19, 2017
I wish y'all would support people who actually take all their fuckin strength to really come out as much as sophie turner's fake coming out

— Hava (@caprcgers) February 19, 2017
As an actual pan and LBGTQ+ person I am so disgusted by Sophie Turner's "coming out" as a joke. You don't joke about shit like that.

— connor (@expectopotronus) February 19, 2017
sophie turner fake came out and then thanked people for supporting her fake coming out??? what the fuck are u doing girl pic.twitter.com/4rlhKApAVx

— ana (@softsoIace) February 19, 2017
Others are suggesting that everyone needs to calm down about the whole thing.
Yall need to calm yo tits on the sophie turner coming out thing it's a pot picture with a fucking pun caption.

— Samphie (@_SammiY__) February 19, 2017
@ woke twitter. fake coming out=hey i'm gay (then "jk, i lied " few hrs later). making a pun is not fake coming out. lay off sophie turner

— celia:-) (@bronsable) February 21, 2017
It's never cool to fake or pretend coming out on social media for attention *cough* Tyler Posey *cough* but maybe Sophie should have thought twice about this one.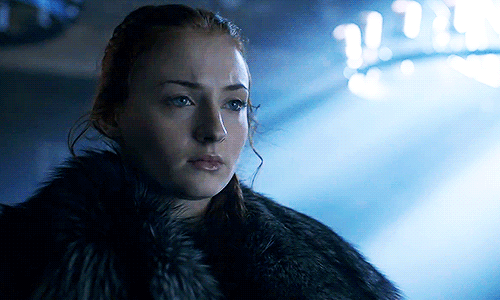 HBO / via giphy.com