The Sims 5 is officially in the works and the first look has been revealed
15 September 2023, 11:12 | Updated: 15 September 2023, 15:18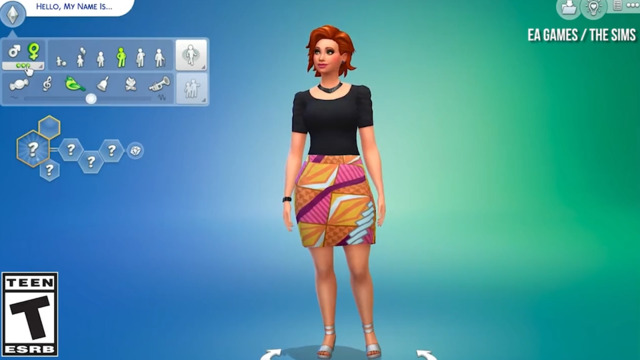 The Sims 4 allows players to add custom pronouns to their Sims
Project Rene teases collaborative play, and a huge advanced customising menu that allows users to create like never before.
It's official: The next generation of The Sims is finally in the works! Yes, The Sims 5 is officially on the horizon and it already looks promising. The latest update? The base game will be entirely free to download when it's released.
A very early sneak peek at the new game, with the working title 'Project Rene', was unveiled at the Behind The Sims Summit on October 18th 2022.
"We are building the next generation Sims game and creative platform. Reimagining the Sims you know and love, with new ways to play. This is the future of The Sims built on a foundation of charming sims, powerful tools and meaningful stories," Lyndsay Pearson (VP of Franchise Creative for The Sims) revealed
She continued: "This future requires us to stay true to what The Sims has always been while pushing to evolve how those Sims think and behave, to push tools even further when creating and customising, and to explore innovative ways to not only tell stories but to collaborate on those stories or creations with your closest friends across your favourite devices."
Here's everything we know about The Sims 5 so far...
READ MORE: How to download The Sims 4 for free
The Sims 5 will be free to download when it's released.
In the latest Behind The Sims update, Lyndsay Pearson confirmed that, when it's released, The Sims 5 base game will available for everyone to download completely free of charge.
"We intend for Project Rene to be free-to-download, and that means, that when it's ready and fully open to our players, you'll be able to join, and play, and explore Project Rene without a subscription, without core game purchase or energy mechanics," she said.
The Sims 5 core game "definitely won't start with everything you have in The Sims 4", but will "add new experiences and content over time." The core game will also receive regular free updates, much like The Sims 4, but packs will eventually cost money to add to the game.
Unlike The Sims 4 though, basic game play features like weather will be included in the free core game. Those features will then be built upon in more detail in the paid-for content packs.
"It's a little early to know exactly where we'll draw the lines," she continued. "But it's important for us to lower those barriers to play and give everyone the broadest shared systems because that feels like the best foundation to grow from."
The Sims 5 will include a lot more advanced creative options for furniture and layouts.
Based on the very brief first look that we've seen of Project Rene, it seems like the next generation of The Sims will contain a lot more advanced creative options to customise individual items of furniture and interior layouts for your builds.
Project Rene showed a player customising the patterns and colours of a sofa from a huge menu of options (including a colour wheel!), as well as placing and layering separate cushions on top.
The Sims 5 will allow you to play with other Simmers.
At long last, The Sims 5 will be a collaborative game, allowing Simmers to play and share their builds and creations with others – and not just through the gallery. You can play with friends on various stories and build worlds together, or you can continue to play solo.
Project Rene game director Grant Rodiek teased the multiplayer feature in January 2023: "We know that our players want to have that intimate personal experience where they're exploring stories and ideas in single-player, but there are also really cool things you could do with others, where you could share and create with your friends, the people that you want."
He added: "You can play on your own, on your terms, and then again, when you want on your terms, you can invite others to come and play with you."
The Sims 5 will allow players to play the game across devices.
It looks like users will be able to play the game across multiple devices, too. The preview teased a player using their phone and their computer at the same time while customising a build within the same world and story.
When does The Sims 5/Project Rene come out?
Well, as explained in the live-stream, Project Rene is the working title, and the new generation is still several years off being released to the general public.
In the teaser, Pearson said: "Over the next couple of years, we will continue sharing updates with all of you on Project Rene. We'll share in-progress work, explorations, sneak peeks, and behind-the-scenes content as well as start to open up early access Project Rene software to small groups over time."
It's likely that people who are Playtesters for The Sims will be able to trial the updates first.
So, if you've only just invested in the The Sims 4, or you're still not done playing with that one just yet, there's no need to worry. The Sims 5 will probably not be released for quite a while yet.
And when it is released, it's been confirmed by EA that the two games will exists side-by-side and will both be supported at the same time.
Read more news about The Sims here:
Drag Race UK's Sminty Drop Reacts To 'Sad Twerk' Exit Going Viral | Drag Race Yearbook