Niki N Sammy Interviewed Ed Miliband And It Was A Bit Weird
15 April 2015, 16:42 | Updated: 8 May 2017, 17:09
Ed Miliband doesn't have a future as a YouTuber, apparently.
"Quick, my faithful campaign team, what's hip with the youth right now? YouTubers? Great, get me two!"
- Ed Miliband, probably.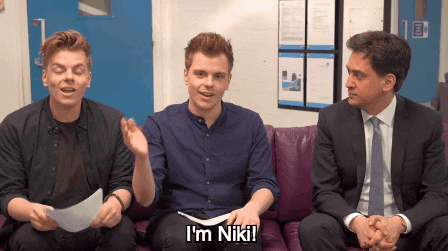 The Labour party leader had a sit-down with YouTube's wonder-twins Niki 'n' Sammy, to "neutrally" encourage young viewers to vote (for Labour). They discussed young people's interest in politics, points of the Labour manifesto, and Miliband's opinion on UKIP leader Nigel Farage - who we shockingly learned from this video, is younger than Brad Pitt. HOW do you age THAT BADLY.
The video is actually super-informative for young, prospective and first-time voters - even if Miliband's political rambling doesn't sit very well over the chirpy "YouTuber" music playing non-stop in the background.
Also, he's not here to have fun.
Check out the full interview with Niki 'n' Sammy below.