You'll Never Guess What OK Go Are Advertising In China
24 March 2015, 15:26 | Updated: 8 May 2017, 17:09
How do they do it EVERY TIME?
Do we love OK Go more for their radical electro-pop, or their visually stunning viral videos? Science says both.
So when we saw there was a new video from them to promote Chinese furniture brand Red Star Macalline, we were puzzled, but super psyched. Especially when, once again, we get mind bending illusions like this: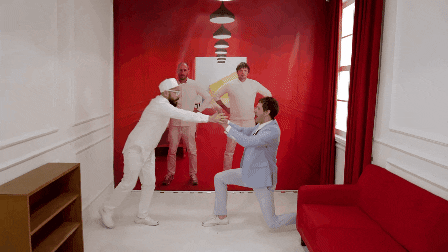 DUDE.
The video for Red Star Macalline takes the visual cues of optical illusions from OK Go's video for "The Writing's On The Wall", while setting it to a remix of their more recent hit "I Won't Let You Down". Because, as they put it themselves in the description, "sometimes you just make what you want."
And we should always, always let OK Go make what they want. Because not only is it awesome, apparently it works:
Check out the video below.