Petite Meller's Voice Will Make Your Day Ten Times Better
25 February 2015, 08:28 | Updated: 8 May 2017, 17:09
The limit does not exist.
It's that time again.
Popbuzz is doling out a healthy dose of awesome in the form of midweek musical treats. This week we've got our eyes firmly set on Parisian pop purveyor Petite Meller.
She's been around for a while but her newest song "Baby Love" is basically the catchiest tune ever.
Her singing voice is dreamy and ultra feminine and her music videos basically make us want to be her best friend.
In case you couldn't tell by her music, she likes to get brassy in the studio.
Although we reckon percussion is more her thing.
But don't think she's all brass and no brains.
Petite Meller is a philosophy graduate studying for her masters so that basically makes her a modern day Jean Paul Sartre.

Reasons to love her:


She does the same dance we do when the fridge is adequately stocked.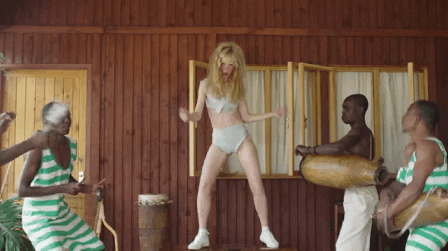 We're not exactly sure she isn't a Sofia Coppola character.


She's a Hitchcock fan (we knew we liked you, girl!)
Ma favorite Actor #JamesStewart #Vertigo #RearWindow #ZiegfeldGirl pic.twitter.com/9Iutoz4mnm

— Petite Meller (@petitemeller) February 23, 2015
And she has so many killer tracks to listen to!