Pandora's 10 All-Time "Most Liked" Tracks Are Just Typical Of Humanity
30 January 2015, 17:19 | Updated: 8 May 2017, 17:09
You're sick of them, but the rest of the world loves them. Enjoy.
If you thought that everyone in the world was ready to move on from the mid-2000's and finally get into all the great new music out there, THINK AGAIN. Internet radio site Pandora recently revealed their 10 most liked music tracks of all time - and we're pretty much done with people's stubborn music tastes.
From sad TV drama soundtracks, Drake's lowest point (YOLO? Really?) Or THAT Dreaded Journey Song - it's all in there. Every song you've gotten sick of in the last ten years, while your less musically-evolved fellow humans are still yelling "AWW TUNE" every time it comes on.
Read on to see the full list if you want almost no surprises.
10. "How To Save A Life" - The Fray
AKA the Sad Song From That One TV Show. Scrubs, Grey's Anatomy, One Tree Hill and even Casualty shoehorned this piano-driven heartbreaker into their saddest scenes.
9. "Someone Like You" - Adele
Adele's stalker-y break-up anthem still makes us well up in tears every time we here those first four bars.
8. "Somebody That I Used To Know" - Gotye ft. Kimbra
The bitter antithesis to "Someone Like You", there was NO ESCAPING this song for so long, until one week it just dropped off the map completely. Jaded guys still use it for their breakup playlists.
7. "Counting Stars" - One Republic
This started off as a hipster anthem, before it became a club anthem, then it was adopted as a dad anthem... One Republic's breakthrough single has got something for everyone.
6. "She Will Be Loved" - Maroon 5
Don't deny it guys, this was on every mix-CD you made for every girl you liked in the mid-2000's. It was a promise: Oh yes, she WILL be loved.
5. "Iris" - Goo Goo Dolls
Possibly the last of the great 90s ballads, this song has been covered by Avril Lavigne, Beyoncé and even Taylor Swift. We can't explain it, but it just makes us... FEEL STUFF.
4. "Let Me Love You" - Mario
This 2004 jam rates unexpectedly high. It's probably been on every romantic playlist made in the past ten years.
3. "Radioactive" - Imagine Dragons
Imagine Dragons' post-apocalyptic breakout hit makes us all want to simultaneously break stuff and walk through deserted city landscapes in slow-motion.
2. "The Motto" - Drake
Drake's new and super-original motto "You Only Live Once" put him on the map, and divided the world into people who lived by YOLO, people who YOLO'd ironically, and the angriest people in the universe.
1. "Don't Stop Believin'" - Journey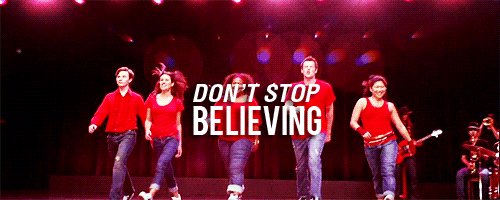 (It was IMPOSSIBLE to find a decent related NON-GLEE image, so here you go)
Just... this song. You love it, you hate it, you're cringing at all the people around you screaming along to it before realising that you yourself are also trapped under its spell, YOU are the small town girl or the city boy and YOU will NEVER stop believing and oh my god, it's got me. It's not even playing. SAVE YOURSELVES.