Hear Panic! At The Disco's New Swing Inspired Song And Freak Out With Us
1 September 2015, 18:55 | Updated: 8 May 2017, 17:09
Called "Death Of A Bachelor" this is a pretty different Panic!
Right everyone, adopt your panic stations (get it?) because Panic! at the Disco have just shared a new song and we're freaking out a little bit.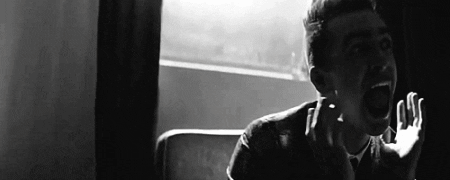 Called "Death Of A Bachelor", the song is the second single to be lifted from the band's yet-to-be-titled upcoming fifth studio album, and we can say that it is AMAZING.
Inspired by Frank Sinatra, who would have turned 100 this year, the song is full of swinging horns, subdued clicks and scattering electronics.
Talking of the song on Tumblr, singer Brendan Urie (bae) said: "I attach his music to so many memories. His music has been a major player in the soundtrack of my life. So it's only right that I return the favor and/or pay it forward. "Death of a Bachelor" is very important to me. It expresses the bittersweet (but mostly sweet) end of an era. A look back at a part of my life now deceased. An "It's a Wonderful Life"-esque look into a possibly different future. But mostly an appreciation for the present."
Profound.
The song seems to cover Urie's recent marriage to wife Sarah Orzechowski and acts as a bit of a send off a life of singledom.
The track premiered on Beats 1 (of course) and will be released this Friday (4 September).
Listen to "Death Of A Bachelor" below and prepare to panic.