Pentatonix Interview: The PopBuzz Q&A
24 November 2014, 08:41 | Updated: 8 May 2017, 17:09
One amazing vocal group. Some seriously tough questions.
If you've been on social media in the last two years (and lets face it, you have A LOT), there's no question that you will have seen Pentatonix. The a capella group's performances - a mixture of covers and originals - are pure internet gold, not to mention pretty incredible. It's a combination of awesomeness that has helped Scott Hoying, Mitch Grassi, Kirstie Maldonado, Avi Kaplan and Kevin Olusola amass more than six million YouTube subscribers.
Now, as the group release their new Christmas album 'That's Christmas To Me', Mitch sat down to take the PopBuzz Q&A, and this is what happened.
You have a new Christmas album out. What's the first thing you do when you wake up on Christmas day?
"Well, now that I'm a boring adult, I wake up and have a cup of coffee while waiting for my extended family to arrive. But when I was a kid, I would run past the presents (with my hand over my eyes so it would be a surprise) straight into my parents' room and bug them until they got up. They loved to document every Christmas morning."
If you could replace each other with instruments, what instrument would each person be?
"Kevin would be a drum machine or a sampler because he's so multi-faceted. Avi would be an upright bass. Kirstie would be a French horn, maybe? Scott would be a cello. I would be a synthesizer (if I had it my way). What a strange band we would be."
Do you think there's any song that would be impossible to cover in a cappella?
"Any hard rock songs, I think. 'Sail' by AWOLNATION comes to mind. I think it would fall a little flat."
What is your go-to warm-up song?
"'Start Over' by Beyoncé. I don't know why, but I find myself singing that song at least once a day. There's something about it that's really fun to sing, not to mention it's a great song."
Which GIF is better?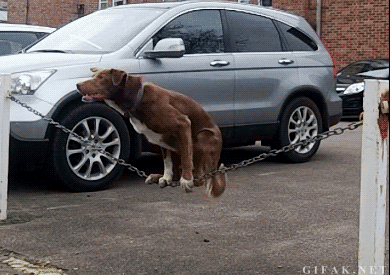 (via Giphy)
Or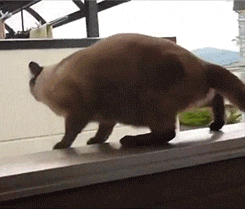 (via Giphy)
"THE CAT!"
If you could have the chance to perform one of your covers with the original artist, which artist would you choose?
"'Aha!' by Imogen Heap. She's my favourite."
What was the last song you Shazammed?
"'What I Might Do (Karma Kid Remix)' by Ben Pearce. I was at a restaurant in Paris and the DJ played this song. His set was amazing. I shazammed nearly every song."
If you only had to use one emoji for the rest of your life, which one would you choose?
"The lip print emoji. I feel like it's very me. And very applicable."
What was the last viral video you watched on YouTube?
"A cover of Beyoncé's 'Pretty Hurts' by two talented young ladies named Chloe and Halle.
Finally, the Queen records a Christmas message in the UK every year. What would your Christmas message be to your fans?
"Merry Christmas and happy holidays! I hope everyone enjoys their time with family and loved ones, and thank you for those of you who have continued to support us! We love you!"
Aww. Happy Christmas Pentatonix! 'That's Christmas To Me' is out now on iTunes.
Get more PopBuzz by following us on Twitter and Facebook. We really like posting stuff on Instagram too.