2 Out Of 4 People Really F***ing Love Carly Rae Jepsen's New Song
8 June 2015, 12:42 | Updated: 8 May 2017, 17:09
Carly Rae Jepsen may never be able to replicate the winning formula that led to "Call Me Maybe"'s success, but the girl sure is trying. With the follow up to 2012's Kiss looming just over the horizon, and after hearing a smattering of singles from the album, it's fair to say that Carly Rae is certainly mixing things up for this release.
Carly's overall sound might be 13 going on 30, but her newest single, "Emotion" falls into that 80s musical sweet spot. The titular track from her upcoming album captured our attention so thoroughly that some of the Popbuzz editorial staff decided they were going to review the track, give it a score out of ten, and share their thoughts.

Megan: Rating - 6/10
Carly Rae is feeling all the feels in this catchy self-empowment track. I'm definitely into her peculiarly focused flower-related scorn. I'm with you Carly, flowers smell!

Charles: Rating - 9/10
Imagine a tiny Canadian girl channelling Prince. When he was so on his game he'd causally hand out number one singles to other bands like party favours (The Bangles' Manic Monday people!) and you basically have this song.
Liam: Rating - 5/10
It's got that newish 80's revival pop formula that works for others, and will make it worth a couple more plays, but her voice just doesn't stand out enough to make it memorable ¯\_(ツ)_/¯
Nicky: Rating 8/10
This track is a solid B. Good chorus, great production (Haim anyone???), and Carly Rae's voice ain't bad on it either. There is something distinctly Taylor Dayne about this song (and Carly's career trajectory in general). Love it though! Best we've heard from the new album.
Overall Rating: 28/40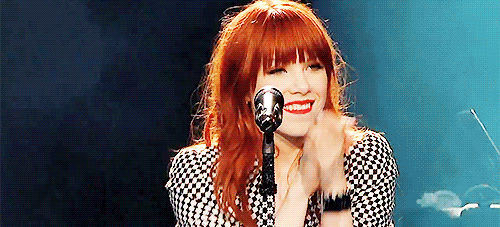 From the peanut gallery

Carly Rae Jepsen's 'Emotion' is a more poppy version of Haim's 'Forever'. This is not a bad thing, both songs are awesome.

— Hannah Ellison (@hanellison) June 8, 2015
Listen to Carly Rae Jepsen's new song, "Emotion"and share your thoughts below