President Obama Reading Mean Tweets About Himself Will Break Your Heart
13 March 2015, 16:44 | Updated: 8 May 2017, 17:09
Thanks, Obama.
Okay, so let's talk about the President.
Barack Obama has spent the entirety of his two terms under the microscope, facing enormous criticism for almost every decision; so it's no wonder that in his final year, he's stopped giving a damn and is just enjoying the position as best he can.
But that isn't to say he isn't paying attention to what people have to say; especially when someone like Jimmy Kimmel gets a hold of him and sits him down with a list of mean tweets.
Yep, Kimmel Live ran a full "Presidential Edition" of the infamous Celebrities Reading Mean Tweets segment last night, and Obama was forced to scroll through the pre-approved list and drink some very watered-down Haterade.
But it did make for some completely golden moments like this: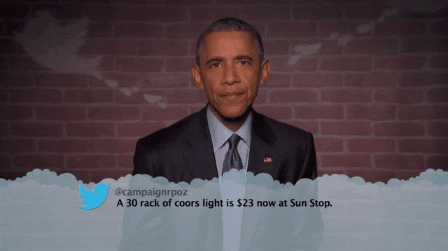 (We like it when he does the thing).
Check out the full segment from Jimmy Kimmel Live, which is going viral pretty fast, below.