Robert Downey Jr. Has No Time For Your Garbage Interview Tactics
23 April 2015, 12:31 | Updated: 8 May 2017, 17:09
The "Avengers" star walks out on interviewer Krishnan Guru-Murthy after questions started getting a bit too personal.
Robert Downey Jr's troubled past has become one of his defining traits in his meteoric comeback. He admits it, owns it, and uses it in his path to become one of the most charismatic and philanthropic film stars in history.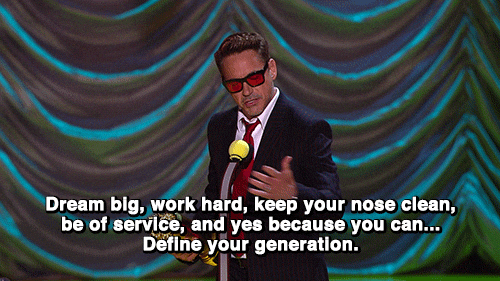 But that doesn't mean he's keen on talking about it openly in a short press interview that's meant for promoting new film Avengers: Age Of Ultron. So when journalist hack Krishnan Guru-Murthy from Channel 4 decided to awkwardly derail the interview by poking into his previous struggles with substance abuse, arrests and his family, RDJ did the only acceptable thing and shut him down.
Guru-Murthy has a reputation for trying to stir the pot and get a rise out of people in interviews; trouble is, he's not very good at it. In the interview which he and Channel 4 have posted online, he is obviously very uncomfortably trying to force this segway in the discussion, which Downey at one point beautifully calls him out on:
But when Krishnan attempted to poke further, despite the obvious tension building in the room, RDJ did the classy thing and called it a day, leaving the room while Krishnan sat giggling awkwardly in his chair.
"You seem okay," RDJ shoots as his parting words, "it's just getting a little 'Dianne Sawyer', and you're kind of a schmuck."
TELL HIM, IRON MAN.
Check out the full interview here. Things start to go south around the 5-minute mark.