Watch Robin Thicke & Nicki Minaj Dance On Some Sofas
14 August 2015, 09:49 | Updated: 8 May 2017, 17:09
We know, we know, but we can't stop bopping to this song.
We've already revealed our affinity for the new Robin Thicke song (sorry, not sorry). It might be a bit basic, but it's hella catchy and sometimes that's all we need.
Now the problematic popstar has dropped the video for the track, which also features our fave rapper Nicki Minaj.
The clip is a typical Robin Thicke video, with the singer surrounded by hot models at a pool party. Although we're not sure about their behaviour.
Look at this girl pour her drink into the pool! How unhygienic.
However, the best bit of the video is where Onika appears and she grooves on a sofa.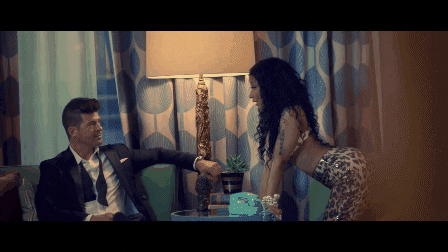 Brb, just going to twerk on our couch. Us when we pick up the phone. So really, we're actually only here for Nicki's bits, but that doesn't stop the song from being a total banger.
Watch the video for "Back Together" below.