Amandla Stenberg Just Schooled The Entire Music Industry
17 April 2015, 11:56 | Updated: 26 November 2018, 21:36
Amandla Stenberg: Don't Cash Crop On My Cornrows
04:30
Basically the coolest 16 year old ever.
16 year old Hunger Games star Amandla Stenberg has a lot to say about race in the music industry. The remarkably poised and insightful LA based actress took the music industry to task over its issue with out of control cultural appropriation.
In a video recorded for Hype Hair Magazine, Amandla speaks about cultural appropriation through the lens of black hair and black stereotypes.
The video, which has only been up for two days, has earned its fair share of controversy. Most of that stemming from the fact that Amandla cites specific examples like Katy Perry, Taylor Swift, Iggy Azalea, and Riff Raff. All of the artists that she names have, at one point or another, benefited from black culture over the course of their careers.
Sixteen year old @amandlastenberg aka Rue from Hunger Games beautifully breaks down culture appropriation. pic.twitter.com/hjhNBGmIhq

— Cassandra (@gringatears) April 15, 2015
Somewhere along the way her message got hijacked and twisted into a headline about how she was "criticising" Madonna and Taylor Swift, failing to mention that she is merely trying to start meaningful dialogue about the greater picture.
She even had to defend her stance against journalists and the way she handled them was next to perfect.
The way you are presenting this video is misleading and creates conflict instead of constructive convo! https://t.co/CfCfQvXY13

— Amandla Stenberg (@amandlastenberg) April 16, 2015
Thanks @billboard, but this is not a petty criticism of Taylor Swift, who, btw, I love. This is about creating a dialogue between races.

— Amandla Stenberg (@amandlastenberg) April 16, 2015
So unfortunate to see the media pitting women against eachother in 2015. Ladies, our love for eachother will overcome all trivial nonsense.

— Amandla Stenberg (@amandlastenberg) April 16, 2015
Amandla Stenberg is no stranger to racism. She was, of course, at the centre of a fan frenzy in 2012 when many misguided Hunger Games fans claimed they could not picture Rue as black. The book character "Rue" was written as a black character by author Suzanne Collins.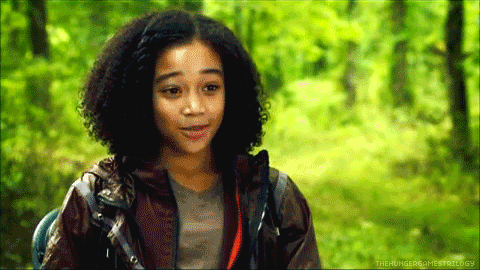 The topic of cultural appropriation is a very hot one at the moment. Zendaya's "patchouli or weed" hair controversy ignited conversations about cultural appropriation when her hairstyle was compared to Kylie Jenner's own dreadlocks which were praised as edgy and cool.
And, of course, Iggy Azalea is constantly at the heart of race debates in the music industry because, well you know.