We Honestly Can't Tell If These "Selfie Shoes" Are An April Fool's Joke Or Not
1 April 2015, 14:45 | Updated: 8 May 2017, 17:09
Let me take a #shoefie.
The internet is chock-full of lame jokes today, which means our Skepticism Radar is on high. But there are a couple of things out there that have still caused us to second-guess for just a minute; because doesn't a concept like a "Selfie Shoe" seem like just the kind of world we live in?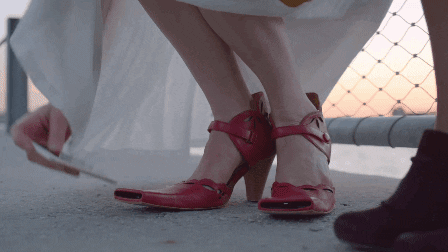 In a world where selfie-sticks have already been invented, celebrated, ridiculed and eventually banned by some festivals, shoe manufacturer Miz Mooz are revolutionising the way we take pictures. Maybe.
According to their promo video, the Selfie Shoe has a dock in the toe of the (admittedly cute) shoes, that connects to a button in the sole. They make it completely easy to throw your leg up high and get the perfect #Shoefie.
Yeah, we're not buying it.
ALTHOUGH, It's not that ridiculous a concept. I mean it is, but it's doable. And the video below was posted to Miz Mooz's channel a couple of days before April 1st. Not to mention this snazzy sign-up page they've set up, to give you a chance to actually win a pair:
We entered our details, but rather than having the chance to win a pair of Selfie Shoes, we may have just ended up on a Miz Mooz mailing list from which we'll never escape.
THE JURY'S STILL OUT. Check out the promo video below and see what you think.