Sleater-Kinney Return From 10 Year Hiatus With New (Awesome) Record
12 January 2015, 08:16 | Updated: 8 May 2017, 17:09
It's hella good.
What an interesting time to be alive. After a hiatus of nearly 10 years, and a similar time frame since their last album, Washington based femme-punk trio Sleater-Kinney are offering up a new album for your consideration.
Making little to no effort to fuel the rumour mill regarding a possible reunion before a few weeks ago, Carrie Brownstein, Corin Tucker, and Janet Weiss ushering in the new year with No Cities To Love is a pleasant surprise.
WHY DID NOBODY TELL ME THAT SLEATER-KINNEY GOT BACK TOGETHER?! WHAT THE FUCK IS WRONG WITH YOU PEOPLE?!

— Mr. Krory (@Tridenter) January 12, 2015
@Sleater_Kinney Came back as a burning volcano. I am so in love with this album. DAMN.

— Hair&Music by Chriso (@hairbychriso) January 12, 2015
the new sleater kinney is giving me chills holy crap this is unbelievably good

— petes (@chairstosit) January 12, 2015
Many will, of course, recognise musician turned writer turned actress, Carrie Brownstein as one third of the riotous threesome. Brownstein currently stars on IFC's Portlandia alongside SNL alum Fred Armisen.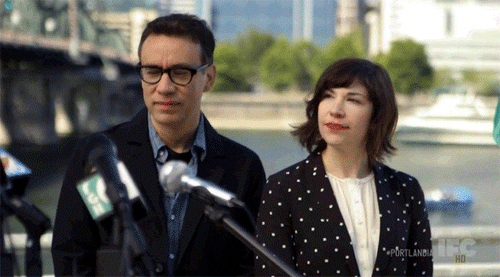 No Cities To Love is currently streaming on NPR ahead of its January 20th release, unless you don't live in the United States then it's streaming on Soundcloud. A little bit.