Spotify Low-Key Wants To Track Your Every Move: Here's What You Need To Know
21 August 2015, 16:39 | Updated: 8 May 2017, 17:09
Spotify's latest privacy policy has an addendum in it that's a liiiittle bit sketch.
If you're still pledging loyalty to Spotify in the ongoing war between them and every other rising streaming service, this new little bit of policy in their latest update might send you running to another camp.
It shouldn't shock anyone by now that Spotify and many other digital services collect data on your usage (to figure how best to target advertising to you); but the latest update to the streaming giant's privacy policy is, well, not that private.
Here's the major things you need to watch out for:
Collecting contact info and media stored on your phone
With your permission, we may collect information stored on your mobile device, such as contacts, photos, or media files. Local law may require that you seek the consent of your contacts to provide their personal information to Spotify, which may use that information for the purposes specified in this Privacy Policy.
This one alone is a big Yikes.
Literally tracking your every move
Depending on the type of device that you use to interact with the Service and your settings, we may also collect information about your location based on, for example, your phone's GPS location or other forms of locating mobile devices (e.g., Bluetooth). We may also collect sensor data (e.g., data about the speed of your movements, such as whether you are running, walking, or in transit).
Yep, not just tracking your location, but your speed. Spotify, or Christian Grey?
Checking out your Facebook... from the inside
You may integrate your Spotify account with Third Party Applications. If you do, we may receive similar information related to your interactions with the Service on the Third Party Application, as well as information about your publicly available activity on the Third Party Application. This includes, for example, your "Like"s and posts on Facebook.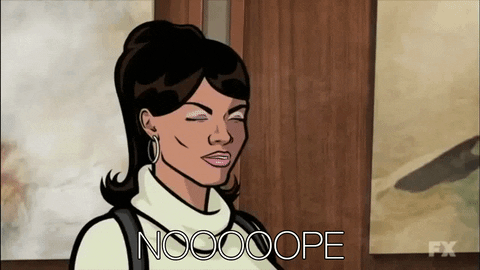 Even I don't want to see every post I've liked, what are you even going to DO with that info???
Storing your credit card info
Oh wait, that might not be so ba-
Sharing your credit card info
MEGA NOPE.
If you sign up for a Trial (as defined in the Terms and Conditions of Use), purchase any of our Paid Subscriptions (as defined in the Terms and Conditions of Use), or make other purchases through the Service, your credit or debit card information (such as card type and expiration date) and other financial data that we need to process your payment may be collected and stored by us and/or the payment processors with which we work. We may also collect some limited information, such as your postal code, mobile number, and details of your transaction history, all of which are necessary to provide the Service.
Obviously the reasons cited for collecting all this information on you is to "improve your experience", or something;and we do know that Spotify has been doing some incredible work with their user data (their Musical Map and time travelling taste-generator Spotify Rewind are just two examples). But do they really need to know how fast we're running?
Let's see if they can track how quickly I make the move to Apple Music.