Sprinkle Of Glitter Just Brought Out A Plus Size Clothing Range And You're Going To Want It All
28 August 2015, 12:04 | Updated: 8 May 2017, 17:09
Bye bye, money.
We don't hide the fact we're a bit in love with Sprinkle of Glitter, AKA Louise Pentland. The British YouTuber has over 2 million subscribers and a seriously decent collection of floral crowns. Like a lot of YouTubers, Louise brought out a lifestyle guide earlier this year but also toured her hilarious one-woman show and did a bunch of life stuff like crush on hot guys/look after a toddler/film a bunch of YouTube videos. So you'd be forgiven for thinking Louise didn't have time for anything else in her life.
You are, however, very wrong.
Last night the 30 year old announced a plus-size clothing range with retailer Simply Be.
Always passionate about making people feel comfortable in their skin, Louise spoke out about her need to design feminine clothing for the fuller figure: "I am passionate about curvy women having access to flattering, feminine, pretty clothes that they feel confident and beautiful in. I think that a lot of plus size ranges offer only dark shapeless sacks so this collection is so far away from that."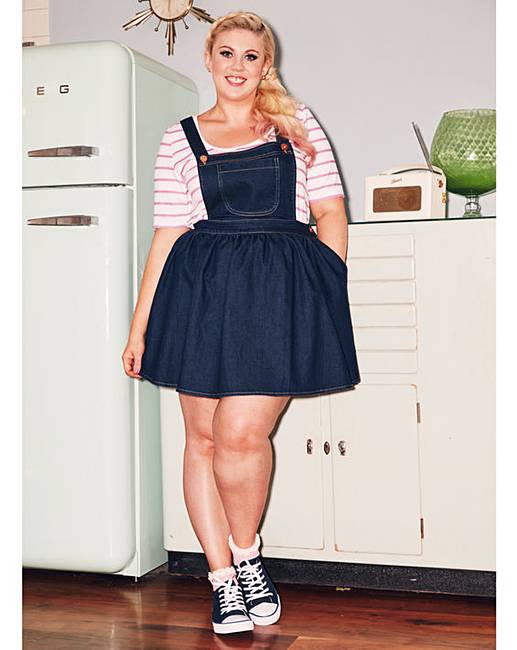 We've previously spoken about the lack of British plus-size YouTubers and Louise is one of the only bigger Brit ladies taking on the YouTube sphere with force and gaining a ton of success from it. So is this plus-size range a step forward for body acceptance and a wider range of figures on YouTube? We certainly hope so.
The collection hasn't entirely been well received by Louise's fans, however. With the collection going from sizes 12-32, fans have been sharing their upset on social media that the collection doesn't cover smaller sizes. With Louise being plus-size and Simply Be being a plus-size retailer, we kinda feel they're missing the point but Louise has said that she's pushing to have some items lowered to a size 10.
As it's most likely your payday, here's the top three pieces from the collection you need to buy NOW.
The playsuit that will change your life
The cat print cami that will make you become the Ultimate Cat Lady
The pink skirt that you will never, ever, ever want to take off
Thanks, Louise, we're living off beans for a month but we look hot!