James Charles apologises to Lauren Conrad after attacking her over new beauty line
21 August 2020, 15:58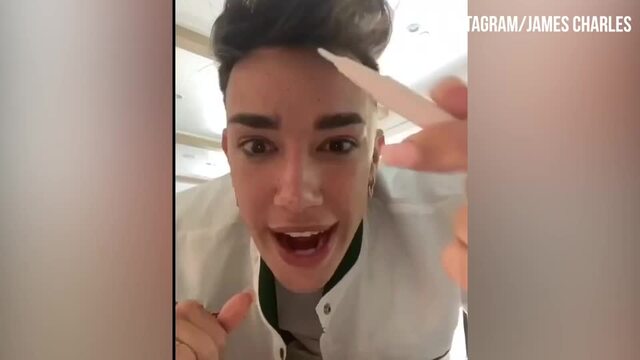 James Charles says Lauren Conrad has "no business" launching a makeup line
People think James is trying to "gate keep" the beauty community.
James Charles has apologised following an explosive Instagram rant where he slated The Hills star Lauren Conrad's new makeup line, Lauren Conrad Beauty.
On Instagram Stories, the YouTuber flipped out after receiving a PR package from a person who "has no business having a makeup brand". He said: "I just opened a PR package from a new makeup brand from somebody who has no business having a makeup brand and I just wanted to show you guys some of these products, okay?"
James went on to show that the products he had received had actually been sent empty. He continued: "This is the liquid highlighter that I just opened up, notice anything weird about it? There is no highlighter in there, nor is there a cap, and it's not even sealed. Like, I just received this piece of plastic in a PR box.
"This is the eyeliner that I got, notice the tip is white? That's because there is no ink in the actual eyeliner pen. Like stop making makeup brands."
READ MORE: James Charles reveals one of his fan accounts faked cancer and their own death
James didn't name the makeup brand in question and covered up the branding on the packaging so his followers wouldn't know what brand it was from. However, Lauren Conrad actually confessed that her brand was behind the faulty PR package in an Instagram comment.
Her comment read: "For those asking about the empty components sent to James... let me tell you a fun story. The woman who put together the gifts (it was me) decided to fill a makeup bag full of empty samples to make sure everything would fit inside. When beauty products arrived and it was time to fill all the makeup bags she (again, me) accidentally included the bag full of empties with the others and it was sent out. She (🙋🏼‍♀️) will be let go immediately."
In another comment, Lauren said that she had reached out to James to explain the situation and he was actually "very nice about it".
READ MORE: James Charles says it took a year for fans to see he was "innocent" in Tati Westbrook drama
James also offered up a public apology on Instagram Stories, which read: "Wanted to write an apology to @LaurenConrad for my stories earlier. I've been on the verge of tears all day long from a ton of things going wrong and opening her PR package was the icing on the cake of weird things happening today. My stories talking about the products were supposed to be funny but they just came across as nasty because I was so upset, not with her, but with other things that happened today. Lauren and I spoke privately about the misunderstanding and are both good."
Well, despite James' heartfelt apology, it wasn't enough for the internet. Some thought that James was being overly critical about Lauren, especially following his previous comments towards Alicia Keys, in which he said she "shouldn't be coming out with" a beauty line because she famously doesn't wear makeup.
wait did james charles just say LAUREN CONRAD (!!!) has no business starting a makeup brand ??? LAUREN CONRAD ????? the woman who invented winged liner ???

— cristina🍮 (@crstnagnzlz) August 20, 2020
Imagine James Charles trying to drag THE Lauren Conrad saying she has 'no business having a makeup brand'.

James' sad ass attempts at gatekeeping the beauty community are exhausting. He should do some homework on LC - he just put all eyes on her new brand 😘 pic.twitter.com/O82XrYmw2h

— A Black Creator. 🔮 (@CourtRevolution) August 20, 2020
The fact that James Charles has the nerve to say Lauren Conrad has no business making a beauty line. She's the queen of winged eyeliner and even wrote a BOOK on her beauty tips before James was even born! 🤣 pic.twitter.com/6x1tvVNOYA

— Morgan 🖤 (@MorganBerner22) August 20, 2020
James Charles thinks he invented being a makeup influencer. Lauren Conrad RAN so all these youtubers could walk

— LIL BITCH (@cacasmiddlename) August 20, 2020
James Charles needs to stop acting like he owns the beauty community with this "somebody who has no business having a makeup brand" in regards to Lauren Conrad. Does he not know who she is???? And her job history??

— ashley (@ashleyastoria) August 20, 2020
What do you think? Tweet us @popbuzz and let us know!