Jeffree Star accused of 'ripping off' another makeup brand with Blood Lust
15 April 2020, 14:58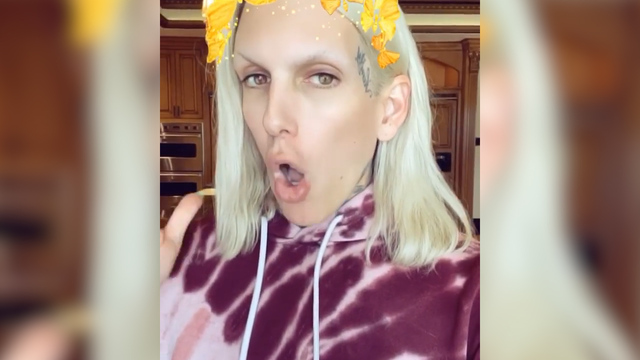 Jeffree Star reveals that there will be a Blood Lust restock this Friday
Fans found similarities between Blood Lust and Lorac's The Royal full face collection.
Jeffree Star has just welcomed two new Pomeranian pups – Dominatrix and Dessert – into the Starr family and he's been documenting his journey being a new "dog mom" on Instagram. However, despite being in new puppy bliss, that hasn't stopped fans coming for him for allegedly ripping off another brand.
Jeffree's iconic Blood Lust eyeshadow palette packaging has been accused of copying Lorac's holiday collection packaging, which was released in 2014.
READ MORE: Jeffree Star reveals his two new Pomeranian puppies Dominatrix and Dessert
The Lorac collection, called The Royal, came in a red velvet hexagonal box with a crown motif and gold filigree design around the edges. As you know, Jeffree's Blood Lust (which was released in February 2020) eyeshadow palette also had a royal theme and came in a purple, crushed-velvet hexagonal box, complete with a crown motif and gold filigree around the edges.
It's worth noting that Lorac's Royal collection wasn't actually an eyeshadow palette. The box contained products for the lips, eyes, and cheeks.
The tea was originally spilled in a Reddit post. At around the 22.04 mark in The Ugly Side of the Beauty World, Shane Dawson and Jeffree Star are looking for inspiration for their Conspiracy palette, after not liking the initial prototype shapes. Whilst in Jeffree's office, the pair comb through boxes and boxes of palette designs and there you see Shane holding Lorac's The Royal box.
READ MORE: Jeffree Star claps back at criticism of his Blood Lust eyeshadow palette
Now, considering Jeffree called out Kylie Jenner for using similar packaging to his lipstick for her concealers back in 2017, people thought it was a little hypocritical.
Alas, the internet appears to be truly split on this one.
The package looks similar but like it's still two different things. Ones a palette and the other is a collection of stuff, people are kinda reaching on this one

— 💃🏽Adrianna🏃🏽‍♀️ (@addiecbl) April 13, 2020
The packaging looks similar, but that's it. The Lorac one isn't an eyeshadow pallet either it's just a box full of random makeup. Jeffree actually pallet is different. you can't trade mark a shape. There's tons of makeup that's the exact same shape. So this is ifffyyyy

— jessica (@jessicaaddaayy) April 13, 2020
They look similar because of shape and the filigree I will give you that but Jeffree's is fucking velvet, and is an actual useable item whereas Lorac is just a throw away box...

— Katt Kettle (@kattkettle) April 12, 2020
A hexagon is not a proprietary shape. Velvet is very on brand for @JeffreeStar royalty fits in with blue blood which the royalty palette was a follow up to. Lorac is not a small brand. It is owned by Markwin. The same company that owns Wet N Wild, Physicians Formula (1/2)

— Lia Echevarria🇲🇽🇺🇸🏳️‍🌈 (@Lia_Echevarria) April 12, 2020
Jeffree hasn't publicly addressed the claims yet but we'll update you when he does.
H/T: Cosmopolitan
Do you see the similarities between Jeffree and Lorac's packaging? Tweet us @popbuzz and let us know!