Jeffree Star criticised over "inappropriate" name of new Orgy palette
14 August 2020, 13:08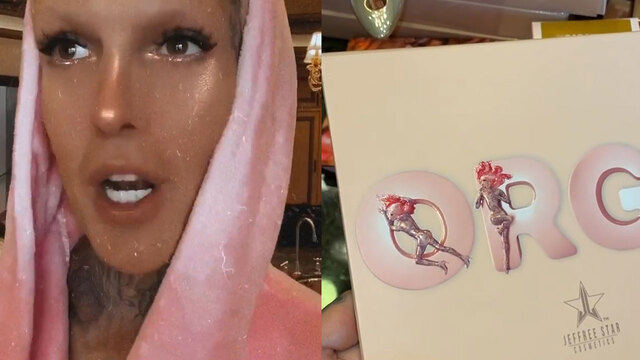 Jeffree Star announces new nude Orgy eyeshadow palette
The full Orgy collection will be revealed on YouTube on August 14.
Jeffree Star has launched his first makeup collection since the drama went down between him, Shane Dawson and Tati Westbrook in June, and naturally the internet has some opinions.
The YouTuber announced the new "Orgy" nude palette on social media – his first nude-coloured collection. If you remember, Jeffree actually already told fans that a nude collection would be coming this year in February in a YouTube comment.
The collection consists of a 30-pan eyeshadow palette and a travel-sized version called the "Mini Orgy" palette, as well as a new colourway of Jeffree's signature star-shaped hand mirror. There's also a new "Caramel" liquid lipstick, new lip glosses, a powder and what looks like a nude makeup bag.
It's not known if the Orgy collection will be available anywhere else apart from his website, after Morphe cut ties with Jeffree Star Cosmetics following his recent scandals.
READ MORE: Fans think Jeffree Star paid bots to leave positive comments on new video
"Introducing the #ORGY eyeshadow palette & collection!!!! Finally we are doing NUDE but the Jeffree way! This 30 pan ALL matte palette is an artists dream. The FULL reveal video will be on my channel TOMORROW morning!!!!" he tweeted, alongside a photo of the Orgy bundle.
Jeffree announced its launch on Instagram Stories too, teasing a video reveal to come on August 14. However, it appears some weren't as excited for Jeffree's launch.
The makeup guru has been receiving backlash for the "inappropriate" name, considering he has a lot of younger fans.
You're aware like 12 year olds buy your stuff. They're gonna be asking their parents "can you get me jeffree star's orgy collection?". The parent would be mortified. I hate it lmao

— Flynn (@xits_flynnx) August 13, 2020
The fact that Jeffree Star is releasing an "Orgy" collection knowing damn well like 50% of his fan base consists of minors after the Shane series is....gross???

— liz ply (@ElizabethPly) August 14, 2020
When ur makeup partner and friend is under fire for sexual inappropriateness with minors and u release an orgy pallet for your minor fan base pic.twitter.com/dvGuiQ16Ge

— Dreamfire | BLM (@Tripping_Fox) August 14, 2020
This wouldn't be the first time Jeffree's palette name has got him in trouble, though. Back in May, he received criticism for his Cremated eyeshadow palette. Featuring shade names like "RIP", "Eulogy", "Obituary" and "The Morgue", many thought it was insensitive considering at the time of its release we were in the thick of a global pandemic.
Jeffree clarified that the product was designed and trademarked back in September 2019, well before the pandemic, and was always scheduled for its May release date.
Apart from previously speaking about his love of participating in orgies, Jeffree hasn't confirmed what made him choose the name Orgy, but no doubt more tea will be spilled in his upcoming palette reveal.
READ MORE: QUIZ: Which one of Jeffree Star's Pomeranians are you?
What do you think? Tweet us @popbuzz and let us know!